Closed-End Mutual Funds in Volatile Times
General American Investments, Source Capital, and their ilk are old and unsung. But they're solid, and can be smart investments, especially now
By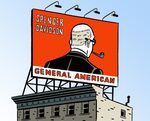 Spencer Davidson should be famous. The manager of General American Investors fund has delivered a 9.1% annualized return over the past decade, through Sept. 30, more than tripling the 3% of the Standard & Poor's 500-stock index while still investing primarily in blue-chip stocks. He has an enviable dossier: At 66, he has more than 40 years of investment experience and was a member of the legendary 1966 graduating class of Columbia University's MBA program, which produced well-known hedge and mutual fund managers Mario Gabelli, Art Samberg, and Leon Cooperman. So why haven't you heard of him? Because General American is a closed-end fund.
Often perceived as the older, unevolved cousin of modern mutual funds, closed-end funds launched in the U.S. in 1893 (the first mutual fund came in 1924). They are curious creatures. While the value of a mutual fund is simply the sum of its holdings at the end of the day—a direct reflection of the gain or loss in what it owns—the value of a closed-end fund isn't nearly as straightforward. It trades on an exchange like a stock, and its price can be buffeted around the same way, sometimes without any obvious catalyst. Unlike a mutual fund, which takes in new money, closed-end funds have an initial offering and often, that's that—new shares are rarely issued, and usually there's no set liquidation date for the fund. To buy in, you purchase shares on an exchange from another investor. The same goes for selling.
One of the quirky things about closed-ends is that most trade at a premium or discount to the value of their portfolios. That may be because a manager is highly regarded or a fund's style is out of favor. On a well-run fund, a discount is an opportunity: Buy in at, say, a 10% discount to its net asset value (NAV), and you effectively get a dollar's worth of assets for 90 cents. Think of it like this: If you like Costco Wholesale (COST)—a General American holding—and you buy it on the stock market, you'd pay about $58 per share. But since General American trades at a 13.2% discount, you can buy exposure to Costco through the fund for 13.2% less than you'd pay to own it directly. The expectation when you buy, of course, is that the discount will eventually narrow, and you'll sell for a gain.
The closed-end structure can benefit shareholders. At regular mutual funds, investors tend to chase performance, throwing money at hot managers who then often struggle to find enough good places to invest it. When performance cools, shareholders tend to flee, which can force a manager to meet redemptions by selling into a falling market. That's not an issue with closed-ends, since investors can't yank cash out. It's a huge advantage for the funds. Says Davidson: "Since our capital is permanent, we have the luxury of holding for the long term and buying in the face of uncertainty."
General American is a particularly well-run fund. It has a low turnover ratio of 20%, meaning it typically holds stocks for five years; the average stock mutual fund turnover tops 80%. Not every closed-end is run as well. "It's part of a dying breed of older, closed-end funds targeted by dissident shareholder groups," says Cecilia Gondor, executive vice-president of Thomas J. Herzfeld Advisors, a Miami investment adviser. (General American is not under attack.) Often, when discounts get large enough, activist shareholders try to force a fund to sell its assets and liquidate so that the full value of the assets gets recognized and they make a fairly quick gain.
Gondor doesn't recommend buying and holding the funds, preferring to buy when discounts are wide and sell when they narrow. She says funds run by good managers can be attractive to hold over extended periods as long as investors buy the fund at a discount greater than where it has historically traded. Once you own the fund, of course, you don't want to see the discount widen. "General American has traded at a discount wider than 10% most of this year," she says. Over five years, the discount has been 8% to 12%. "
At 13% to 15%, we find its discount attractive and above 15% very attractive," says Gondor.
The best-run closed-ends are usually the oldest. Bad funds tend to trade at deep discounts and to be targeted by activists. Older funds often have low expenses, high insider ownership, and little or no leverage. One of the only ways closed-ends can increase their asset base is by borrowing money; they can do this for up to one-third of the value of their assets, but it can increase volatility. General American has low leverage, about 15% of its assets.
Another good old-timer is Source Capital. Founded in 1968, the fund traded at 40% to 50% discounts during the '70s bear market. It then caught the attention of investors Warren Buffett and Charlie Munger. "They knew they were buying a dollar's worth of assets for 50 cents and thought if they bought enough they could take over the fund and control its investment policy," says Eric Ende, the fund's co-manager. "They convinced the fund's manager to use an investment approach similar to Berkshire Hathaway's, and it's been run that way ever since." Ende, who has managed Source since 1996, buys companies with strong franchises and economic moats that ensure they remain market leaders. He favors health care and industrials. Over the 10 years ending Sept. 30 the fund had a 12.5% annualized return, beating 99% of mid-cap growth funds. It has a 0.87% expense ratio and 8% turnover.
Other oldies but goodies: Adams Express (ADX) and Central Securities (CET). Adams Express has low expenses and turnover, but its 4.3% annualized 10-year return only just bests the S&P 500. Central Securities, like Source, has been a champ. It delivered an annualized 9.1% over the same period, beating 90% of its peers. It, too, has low expenses and turnover. One unusual aspect: 22% is in the Plymouth Rock Co., a private insurer, which it has held for 26 years.
To have such a large position in a private company would be virtually impossible in a mutual fund, since redemptions could cause the manager to sell an illiquid stock. Uncertainty around valuing private companies has led some investors to avoid Central, so it's often traded at deep discounts even though its valuation techniques are fairly conservative. Manager Wilmot Kidd, 66, is fine with that. He's led the fund for 34 years, his family owns over 10% of it, and he has no plans to retire.
Before it's here, it's on the Bloomberg Terminal.
LEARN MORE