Etiquette: A Dress Code for Success
Too tight. Too short. Too sloppy. Sound like your staff's wardrobe? It's awkward to ask an employee to spiff up his appearance, especially if you want a creative work environment. Here's how to ensure that everybody looks professional in the office
Amy S. Choi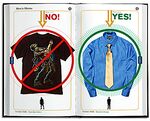 1. PRACTICE WHAT YOU PREACH
"There has to be leadership from the top for everything, including clothing," says Gail Madison, an etiquette expert in Huntingdon Valley, Pa. If you are strolling in wearing T-shirts and jeans, your employees are likely to see that as the most formal they will ever have to be.
2. HAVE A POLICY IN PLACE
Though it's nice to think that everybody will intuitively know what is appropriate for work and what is not, that's just not the case. If you have a written dress code, complete with specific examples, employees are much more likely to adhere to it.
3. BE DIRECT
Poorly dressed employees should be addressed privately, by you or their direct manager. Ideally, you'll guide staffers into making the right decisions themselves. If it's a first offense, you might say, "It has come to my attention that your clothing is a bit distracting." Ask them what they think a professional should wear and encourage them to dress similarly. If grooming is a concern, you could say, "How are you feeling lately? You don't look as well as you usually do," and then begin to discuss grooming issues.
4. BE PREPARED
This conversation can put people on the defensive. If staff ask why their clothing matters if they are doing a good job, you might say, "You are definitely doing a good job, and I want you to be even more successful by dressing more professionally." Likewise, if they compare their dress with another employee's, you might answer: "That may be true, but right now we're talking about how you dress for work."
5. SEND THEM HOME
If someone dresses inappropriately all the time, you may want to send them home. Although, as Barbara Pachter, an etiquette expert and consultant in Cherry Hill, N.J., admits, "That's the extreme."
Back to BWSmallBiz October/November 2008 Table of Contents
Before it's here, it's on the Bloomberg Terminal.
LEARN MORE