Milk Contamination Is Sinking China's Farmers
It could be decades before the dairy industry recovers
By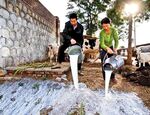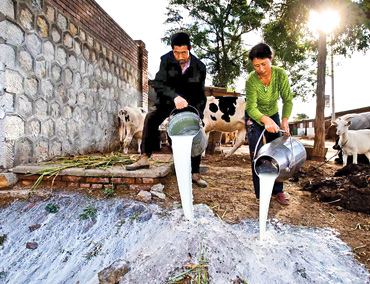 TONGYE, CHINA In the courtyard of Dong Lizhong's simple brick house, 20 black-and-white cows stand in the mud. Dong had hoped the cows would be his ticket out of a factory job in the nearby city of Shijiazhuang, 250 miles southwest of Beijing. Instead, he and his family now drink all the milk they can stomach and dump the rest in his cabbage fields. The problem: The dairy-collection station in his village, Tongye, stopped purchasing on Sept. 14. "Unless someone starts buying milk," Dong says, "a lot of cows will be slaughtered."
Dong is one of hundreds of thousands of small-time dairy farmers caught up in China's widening milk-contamination crisis. Since the summer, four infants have died and at least 53,000 have fallen ill from baby formula containing melamine, a chemical additive used to make plastic. The contaminant has since been found in a wide range of foods containing milk, and more than 20 countries have banned Chinese dairy products.
NO QUALITY CONTROL
While the crisis was aggravated when authorities turned a blind eye to early reports of contamination before the Olympics, its roots lie in the explosive growth of China's dairy sector. China doesn't have a milk-drinking tradition, but as the country has grown wealthier, more Chinese have started buying milk and yogurt. Big dairy companies have prospered by meeting those needs, and farmers quickly saw an opportunity in quenching the nation's newfound thirst.
Early on, dairies set up collection stations near their home bases, where they could monitor quality. But in recent years middlemen started buying milk and reselling it for a higher price to more distant dairies. In Tongye, Sanlu Group, the regional heavyweight, ran the local collection station, and farmers there say the company tested the milk. In the past two years, though, new stations popped up in nearby villages to buy milk for Mengniu and Yili, the country's biggest dairies, both headquartered hundreds of miles away in Inner Mongolia. Sanlu, meanwhile, started buying milk in areas once controlled by Mengniu and Yili. "As milk buyers fought over supplies, their quality standards fell," says Roger Liu, vice-chairman of American Dairy, a powdered-milk producer in northern China.
Some middlemen added melamine, which makes milk appear to have more protein, so they could command a higher price. In the village of Nanxincheng, about an hour from Tongye, the owner of the local collection station was arrested on Sept. 15 for buying 200 kilograms of melamine over the past year, Chinese media have reported. "They didn't test the milk here," says Du Yanjun, a government inspector who was posted to monitor the facility after the crisis erupted. No one answered the phone at the station, and the owner couldn't be reached for comment.
China finally is cracking down on the problem. The four largest dairy companies have pulled many products from shelves. And Beijing has sacked the chairwoman of dairy giant Sanlu, party officials in Shijiazhuang (where Sanlu is based), and the head of China's food-quality agency. But that's little consolation for families whose children have died or fallen ill, or for dairy farmers unable to sell their milk. Farmer Dong, for instance, says he has lost nearly $1,500, or about a quarter of his income last year. The crisis "is a disastrous setback" for the industry, says Luo Yunbo, dean of the College of Food Science at China Agricultural University in Beijing. "It will take one to two years to rebuild confidence in dairy products."
Before it's here, it's on the Bloomberg Terminal.
LEARN MORE