Design Tunes Up Altec Lansing
The once-innovative audio gear maker is banking on building an internal design organization to turn its business around
Matt Vella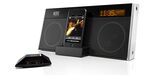 Darrin Caddes has his work cut out for him. In the dimly lit backroom of a ritzy Manhattan hotel, a dozen or so gadget bloggers and technology writers have gathered to meet with Caddes, vice-president for corporate design at headset maker Plantronics (PLT). But instead of the form-fitting ear pieces or business communications gear Caddes is known for, the soft-spoken, 43-year-old designer is surrounded by a range of gleaming iPod speaker systems, their LCD displays glowing blue and orange.
Caddes is charged with hitting the reset button on consumer-electronics manufacturer Altec Lansing, which Plantronics bought for $166 million in 2005. The Milford (Pa.) engineering firm has a long track record of innovation, including pioneering technology that gave voice to the first talking pictures, putting its stamp on everything from professional loud speakers to the audio inside Walt Disney's (DIS) Epcot Center in Orlando, and creating the first speaker system with an integrated iPod dock in 2003.
But recently, Altec has seemed anything but fresh. The company had been happy to trundle along with the same playlist even as the $1.1 billion U.S. market for iPod docks became more competitive. Its products—a hodgepodge of out-sourced designs—became indistinguishable in the bazaar of look-alikes made by Asian manufacturers. Unable or unwilling to differentiate itself, Altec began bleeding money.
Bland Design
As a whole, Plantronics saw revenue grow 7%, to $856.3 million, in fiscal 2008, with net income jumping 38%, to $79.4 million, from fiscal '07. But the faltering consumer audio division, which absorbed Altec, dragged down its roaring communications division, which has been boosted by a boom in sales of wireless headsets. The remnants of Altec saw net revenues slide 12%, to $108.4 million, from the year before while operating losses swelled 24%, to $35.8 million. Striking a somber note, the company's annual report pinned the blame squarely on bland design.
Caddes, a former automotive designer who held high-profile positions with the likes of BMW (BMW) and Fiat (FIA.F), was tapped four and a half years ago by Chief Executive Ken Kannapan to help transform Plantronics from a maker of humdrum corporate headsets into a purveyor of well-designed, stylish fashion accessories. (For more on Caddes, click here.) Even as Altec stumbled, overall revenue at the 4,500-employee outfit, has more than doubled since Caddes hired on. Meantime, his design crew, who work from a glitzy new 7,000-sq.-ft. studio in Plantronics' headquarters in Santa Cruz, Calif., swelled from 5 to nearly 25.
Now he's got to do it again: Executives gave him control of the Altec brand two years ago. "We'd been dying to get involved with the Altec brand since the acquisition," admits Caddes. But only when the unit faced serious difficulties would top management commit to building a separate design team dedicated to Altec. "If we're going to do this, we've got to be all in," says Caddes, who has built a more modest team that, for now, consists of two full-time designers dedicated exclusively to Altec products, with a handful of Plantronics designers pitching in.
Fresher Image
His plan is nothing short of a relaunch of the Altec brand, refreshing its image—including Web site, packaging, and point of sale displays—as well as the industrial design of its products.
Nearly two years in the works, an initial slate of four new products—including iPod docks and PC and MP3 speakers—launching this month will carry a new logo, designed to evoke subtly the shape of the company's classic loudspeakers. "Overall, we were seduced by the romance of the company's history," says Caddes, noting that the multi-faceted redesign tries to re-appropriate elements from Altec's past.
Moving away from the high-gloss, white-clad curves of many iPod accessories, the new Altec products pay homage to the heavy-duty equipment the company has been known for in the past. One upcoming black boom box, for example, features heavy-duty handles that echo the rack mounted audio processors used in studio equipment. Upcoming remote controls will have chunky clasps like those found on carabineers. And many of the new designs eschew skimpy plastics for thick aluminum bezels and large-gauge metal fasteners. "The design isn't intended to just make prettier products," says Caddes. "We want to see the audio in the product's form."
Caddes has an ally in Altec's new boss Vicki Marion, lured last October to run the Altec division. Marion, 53, helped build headset designer Jabra, eventually selling the company for $65 million to communications manufacturer GN Netcom in 2000. Marion, now the president of Plantronic's Audio Entertainment Group, says she decided to take the job after posing as a consultant (with CEO Kannapan's blessing) to sit in on two days of extensive presentations by Caddes and fellow designers on ways to re-make the brand. "They laid out ideas for the next three years of the company's products," she says, noting that Caddes' thoroughness convinced her management would back his plans for completely "hitting the reset button on the brand."
Still, Caddes and Marion face an uphill battle. The headset business is being boosted by the widespread implementation of hands-free legislation that effectively makes Plantronics' wares a legal requirement to drive and yak at the same time. Altec's audio equipment division has no such advantage. What's more, competition is rapidly driving down the average prices of iPod docks, from an average of $136 per unit two years ago to an estimated $113 in 2009, according to the Consumer Electronics Assn.. That will make it harder for the company to improve its profit margins.
The usually soft-spoken Caddes strikes a confident note. With new slate of new products, he says, "the full value of the brand is finally on display."
Before it's here, it's on the Bloomberg Terminal.
LEARN MORE