Gome Is Tops in China
Knowing the value of innovation and branding helped this electronics and appliance retailer become a leader in a competitive market
by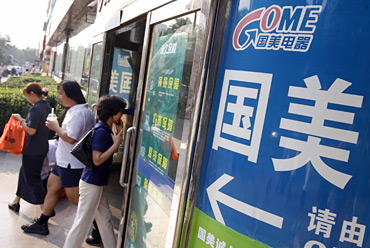 In its 15 years of existence, Gome Electrical Appliances has become China's largest electronic retailer—with a 12% market share according to the company's internal estimates. The Beijing-based company started by selling TV sets, air conditioners, and refrigerators at low prices by cutting out the middlemen and purchasing directly from manufacturers. Now, Gome (despite the unconventional spelling, the name is pronounced Guo Mei and means "beautiful nation") has shifted its focus to selling Dell (DELL) laptops, Apple (AAPL) iPod nanos, and Motorola (MOT) cell phones. "Small items don't occupy too much of the store space, but the margins may be even better than the traditional electronics," says Wang Gao, a professor at Tsinghua University who runs an executive development program for Gome.
Gome's new strategy has helped propel the retail giant to No. 46 in BusinessWeek's Asia 50. Hong Kong-listed Gome's profit surged 38%, to $165 million, in 2007 on sales of $6.2 billion. Goldman Sachs (GS) is forecasting Gome to earn $394 million in profits this year from sales of $7.2 billion. Gome's actual profits and sales are most likely even higher because parts of the company were not injected into the listed company when founder Wong Kwongyu took Gome public through a back-door listing in June 2004. According to Gome's 2008 interim earnings report, its listed entity had 828 stores in China as of June 30, but Gome says the group currently has 1,300 stores.
Optimistic About a Rebound
For all its strength last year, though, Gome has not won fans among investors more recently. Its Hong Kong share price has fallen 43% since hitting a 52-week high in late January. Analysts blame a rough climate for equities; Hong Kong's benchmark Hang Seng index, for instance, has dropped 38% from its Oct. 30 peak. Gome also was hurt by the May earthquake in Sichuan and severe spring floods in southern China, which depressed sales and sent same-store growth falling into negative territory. The disappointing stock performance is therefore "understandable," says DBS Vickers Securities' retail analyst Mavis Hui, who remains optimistic about a rebound. "On the whole, the second half is still looking very good," she says.
Most Chinese companies want to be the biggest, but few have succeeded like Gome. The company did it by constantly innovating and evolving its business model. Gome founder Wong dropped out of school at 16 and started selling imported electronic products from a roadside stall in Beijing with his brother two decades ago. In 1993, the brothers began selling their electronic products under the Gome brand at a time when there were few Chinese brands.
"The key to their success is that branding is a concept that is still evolving rapidly in China," says Warren McFarlan, a Harvard Business School professor who co-authored a paper on Gome. "What Gome was able to do was they were able to sell the Gome brand as high quality. Therefore, people used the Gome brand to trust the electronic items that were put in their store because a lot of the people didn't know who the Chinese brands were." Gome estimates its brand is now worth $7.2 billion.
Teething Pains
Like many other Chinese retailers, Gome originally focused on covering every corner of China. While management gave a lot of attention to opening new stores, they tended to lose interest in the performance of existing ones.
A saving grace was that Gome was the first Chinese retail chain to be picky about opening stores in good locations, giving it an edge over China's second-largest electronics retailer, Suning. Gome has expanded also by gobbling up rivals left and right, including then-third-largest electronics retailer China Paradise, fourth-largest Beijing Dazhong Electronics, and fifth-largest Sanlian Commercial, as well as cell-phone specialty retailers Dalian Xundian Communications and Shaanxi CellStar Telecommunications. Gome has spent more than $1.1 billion on acquisitions since July 2006.
But as Gome rapidly expanded, it began to experience teething problems. Some of the second- or third-tier cities in which Gome planted stores were not big enough to justify one. Also, Gome did not have enough talented and experienced managers to run the newly opened stores. Gome's sales per square meter of shop space—a metric to evaluate a retail chain's success—plummeted 28% in 2006. It was a wake-up call for Gome's management. Starting in 2006, Gome tweaked its strategy to place less emphasis on growing bigger. "The change in strategy was primarily because the company had already finished the first steps of expanding its network and scale. Future development would place greater attention on raising the sales per square meter of store space," He Yangqing, Gome vice-president, wrote in a response to question submitted by BusinessWeek.
A Custom-Made Strategy
The centerpiece of the new strategy was to ink exclusive distribution rights to the so-called "3C" category—computers, communication, and consumer electronics. Not only do these 3C products carry fatter margins, they also see double-digit growth from China's rising consumer class. Gome agreed to open up Motorola-branded shops-within-shops inside 30 of its largest stores across China almost one year before Suning reached a similar deal, so it sold Motorola's ROKR2 cell phone before anyone else. Dell chose Gome to be its first retail partner in China before signing a deal with rival Suning six months later. So far, Gome holds the exclusive rights to sell Apple products in China. Gome has also been working more closely with suppliers such as TCL and Haier to make custom-made products consumers want.
This strategy appears to be succeeding. However, that doesn't mean it will be all smooth sailing for Gome. Originally, the company was targeting 4% or 5% in same-store growth this year but has lowered that forecast by one or two percentage points. When Gome announced interim earnings Aug. 13, Gome President Chen Xiao admitted it may not be able to meet sales targets this year due to the earthquake in Sichuan and floods in southern China depressing consumer spending. Moreover, Gome was originally hoping for a boost in TV sales this summer from the Olympics, but initial feedback from stores showed that more people chose to stay at home to watch the Olympics rather than go shopping. In the second quarter, Gome saw some hiccups, says DBS' Hui, but adds, "We believe that there is still room for them to actually expand stores and also improvements in the profitability."
Business Exchange related topics:China MarketingChina InnovationRetail
Before it's here, it's on the Bloomberg Terminal.
LEARN MORE