Rakontur Films' Marketing Strategy
Miami documentary filmmakers Rakontur use a street-smart marketing strategy that enlists viewers as promoters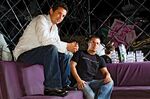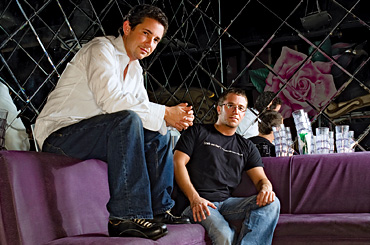 Typically clad in cargo shorts and flip-flops, 30-year-olds Alfred Spellman and Billy Corben look easy to dismiss. But amid widespread angst for content makers, their Miami production house, Rakontur Films, has become a case study in successful viral marketing.
The studio's revenue, which includes DVD sales and production contracts, has doubled annually for the past three years. It just released the sequel to its 2006 indie hit Cocaine Cowboys, and it has inked creative deals with ESPN Films and Warner Brothers TV for a Cowboys HBO series. And the scrappy startup has done it with a total staff of five, including themselves. "They've created a whole new audience: an alternative, youth-leaning, nonfiction-seeking core," says Tom Quinn, senior vice-president of Magnolia Pictures, which distributed the Cowboys series.
Rakontur's ethos: Keep hustling, be lean and opportunistic, be constantly interactive and digital, be random, provoke, and offend. All along, make sure your audience feels personally invested in your brand. Writ large, this strategy evinces the new marketing order.
For starters, the pals are more keen to cite blogger Jeff Jarvis and marketer Seth Godin than the likes of Kubrick or Spielberg. "This is about permission marketing, people actually seeking you out and asking to be involved," says Spellman. Corben, for one, responds to every fan e-mail and Facebook message he receives—even if he has to wade through hundreds a day. They both also dutifully Twitter and Flickr their daily filmmaking adventures. It's a bit like The Truman Show.
It all started in Miami in 1993, when the two ninth-graders staged a hostile takeover of their school's TV newscast, a feat that catapulted them out of dorkdom and, says Corben, "marked the dawn of our viral tendencies." A year later, the duo had Corben's grandmother drive them downtown to sell the school board on a short film about a high school student's HIV test. By the film's November 1994 premier, the boys were in the papers and getting their cheeks pinched at national teaching confabs. Six years later, they were the youngest filmmakers ever to premier at the Sundance Film Festival, with their documentary Raw Deal: A Question of Consent. The controversial picture explored an alleged rape at a university frat house.
EMBRACING PIRACY
Then came Cocaine Cowboys, a breathless look at the violent drug-running era that shaped modern Miami. Three months before its release, Spellman and Corben learned that pirated DVDs were being hawked at an inner-city Miami flea market. They showed up with a camera crew and became impressed with how bootleggers had already made Cocaine Cowboys a phenomenon everywhere from barbershops to corner bodegas. "We asked ourselves, why fight it?" recounts Corben. "We couldn't have bought that kind of cred."
Corben and Spellman turned their colorful footage into a series on YouTube, which drew more than a million views. Soon, superstars such as Janet Jackson and rap artist Pharrell Williams got in touch; the latter is now collaborating with them on an animated series for cable television. Rakontur channeled the buzz into a massive MySpace and Web outreach effort, plying their twentysomething-heavy fan base with gonzo stunts.
When a Rakontur studio was burglarized last year, the filmmakers posted a video of the hilariously inept thieves. Fans blasted out the link, and megaportal gizmodo.com turned it into a national viral phenomenon. The burglar's father was so embarrassed that he turned in his daughter. The upshot: Free press for Rakontur—and a surge in fans visiting their Web site to preview their film and buy merchandise. For an encore, they posted instructions on how to print counterfeit parking receipts, partly out of annoyance at official nonchalance toward Miami Beach's parking problem. Spellman ended up on the front of The Miami Herald—just as he was opening a new South Beach club that doubled as a Rakontur fan base. "It pays to put your life out there," he says.
The two also use the Web to guide hard business decisions. A lot of hits from Detroit, for example, would put that city high on the list for any limited theatrical release, or when scheduling a tour for the coffee-table book they're now doing with MTV Books. Cocaine Cowboys II, the filmmakers point out, was the result of hundreds of fan e-mails about one character in the first movie. "Why start from scratch?" asks Corben.
Now they're filming a documentary for ESPN on the storied University of Miami Hurricanes football franchise. Production is so lean that Spellman confesses his dog Kaya might again be used to pad the closing credits.
Before it's here, it's on the Bloomberg Terminal.
LEARN MORE