Olympics Security Is No Game
U.S. companies are supplying high-tech surveillance gear to the Beijing Olympics. The concern is how it might be used after the Games
By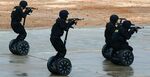 Even as the likes of McDonald's (MCD), Adidas, and Coca-Cola (KO) spend millions of dollars trumpeting their affiliation with the Beijing Olympics, a different group of multinationals is less eager for the spotlight. China is spending some $6.5 billion on security for the Games, and much of that has gone to foreigners. But given the sensitive nature of those contracts—and a skittishness over being perceived as supporting China's authoritarian government—these companies are often reluctant to discuss what they're doing or how much they're making. "We want to avoid answering sensitive questions," says a staffer in the Beijing office of Panasonic (MC), which has sold surveillance cameras for use at the Games.
That doesn't mean these companies haven't been aggressive in courting business. General Electric (GE), IBM (IBM), Honeywell (HON), Siemens (SI), Panasonic, and LG have all won major contracts providing security technology for the Olympics—one of the biggest security-business opportunities ever, and a shot at lots of ongoing business for those that get in early. The Chinese are laying out more than four times the $1.5 billion that Athens spent on security in 2004, says the Security Industry Assn., a Washington trade group.
The hefty increase is due in part to the immense size of the 2008 Games. Beijing alone has 31 Olympic venues; six other cities—the most ever for an Olympics—will play host to soccer, equestrian events, and sailing. In attendance will be 10,000 athletes, 30,000 journalists, and more than 80 heads of state, including George W. Bush and France's Nicolas Sarkozy. "Hosting the Games is, in the context of the U.S., like having two Super Bowls every day for 16 days," says Harvey W. Schiller, chairman of New York risk consultant GlobalOptions Group (GLOI) and a former executive director of the U.S. Olympic Committee.
Olympics Terrorism Fears
Beijing's legitimate concerns about terrorism also are behind the big spending. On Aug. 4 two men attacked a group of policemen (BusinessWeek.com, 7/28/08) in western China, killing 16 of them. So China has deployed 34,000 People's Liberation Army soldiers and more than 75,000 other security personnel to keep an eye on the Games. Anti-aircraft missiles are in place around the "Bird's Nest" stadium, the centerpiece of the Olympics. And Beijing's airport was scheduled to shut down during the Aug. 8 opening ceremonies in the stadium. "Safety is our top concern here," Vice-President Xi Jinping said while touring Olympic venues on July 21.
Foreign companies are a big part of the safety equation. Nearly 90% of the security equipment used directly in Olympic venues will be supplied by foreigners, the Security Industry Assn. estimates. Honeywell Security has sold intrusion detectors and surveillance cameras for use at more than 10 Olympic venues, including a $20 million contract for the Bird's Nest. Panasonic has provided some 2,000 surveillance cameras for the National Convention Center, site of the fencing competitions and the press center. Siemens sold more than $7 million worth of building-automation and security-control systems for the National Aquatics Center. And an IBM product called Smart Surveillance System, or S3, helps authorities keep track of images from some of the 300,000 video cameras watching for potential troublemakers on the streets of the capital, IDG News Service reported in December. IBM declined to comment.
And an IBM product called Smart Surveillance System, or S3, helps authorities keep track of images from some of the 300,000 video cameras watching for potential troublemakers on the streets of the capital, IDG News Service reported in December. IBM declined to comment.
Smaller companies are stepping in, too. Segway, the maker of two-wheeled, electric-powered scooters, has sold more than 100 of the $5,300 transporters for use at the Games. Many of these will be manned by police and other security-agency personnel. And ASK-TongFang, a French-Chinese tech outfit, is providing tickets with radio-­frequency-­identification chips in them. These allow authorities to maintain a central database of information on ticket holders and track their movements.
China's "Huge Opportunities"
Probably no foreign company is more involved in Olympics security than GE. Its gear is installed in 22 venues, and it has 150 technicians on hand in case of breakdowns during the Games. At the Beijing airport the company has supplied seven detection systems that sniff the air for particles indicating that a passerby might be carrying a bomb or drugs. And the newly built subway line No. 10, which skirts the Olympic Village, is using GE video-surveillance devices. All told, 168 buildings in the capital have GE security equipment, and the company recently won the entire security contract for the new headquarters of national broadcaster CCTV, built in part as a showcase for the Olympics. GE declines to say how much the deal is worth.
Business doesn't end when the Games wrap up, either. Contracts for the Olympics are crucial to break into security in China, a market that will likely grow 30% this year, to nearly $11 billion—just behind the U.S., according to the Security Industry Assn. GE will provide security equipment for the 2010 World Expo in Shanghai and for that year's Asian Games in the southern city of Guangzhou."These are mega-events with big infrastructure needs," says James D. Fisher, who oversees GE's Olympics-related business. Moreover, China has more than a dozen cities with populations topping 5 million, and "every one of these is building new subways, new airports, new stadiums, and new commercial buildings," says Fisher. "These are all huge opportunities."
Some experts warn that multinationals need to weigh such opportunities against the risks. China, after all, has a checkered human rights record. And the public security force, which is the buyer of most security equipment, is at the heart of efforts to clamp down on dissent—and could well end up using the nifty new gear to do just that. "All this top security technology is being employed for the Olympics," says Richard Chace, CEO of the Security Industry Assn. "The question is, what happens to it and how is it used after the Games?"
Before it's here, it's on the Bloomberg Terminal.
LEARN MORE