3.5 Million Meals In 16 Days
For Philadelphia food-services giant Aramark, the Beijing Games are the ultimate logistical challenge
Nanette Byrnes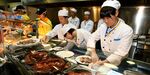 After catering 13 Olympics since 1968, Aramark has pretty much seen it all—from scrambling to get enough staff for the Atlanta Games in 1996 to construction challenges in Athens four years ago. But feeding athletes, staff, and media at the Beijing Games is its toughest challenge yet.
The Philadelphia food-services company is trying to pull off its biggest Olympics while navigating the particular challenges of doing business in China. The sheer scale of the project is just the start: close to 20 million servings of rice to prepare, 743,000 potatoes to peel, and a million-plus apples to scrub in the process of serving up to 10,000 people per hour. Add in the challenges of haphazard food distribution and the difficulty of finding Western staples like cheese. China's reputation for using high levels of pesticides and hormones in food production also has many athletes looking to avoid any food that's locally grown—putting more pressure on Aramark to prove the dishes it serves are perfectly safe. "It is a high-risk operation for us," says Aramark Chief Executive Officer Joseph Neubauer, whose company has spent the past two years in Beijing preparing for the 16-day event.
NO HOUSEHOLD NAME
The Beijing Games are likely to draw remarkable scrutiny for a company that's used to operating outside the limelight. Although odds are most Americans have eaten Aramark food at sports stadiums and amusement parks, few would recognize the name. The 49-year-old company employs 250,000 people in 19 countries—with 20% of its food-service sales outside the U.S.—and counts colleges, prisons, and hospitals among its clients. In January 2007, Neubauer led an $8.3 billion buyout to take the company private. Wachovia Capital Markets analyst Bryan C. Hunt expects revenues of $13.2 billion for the fiscal year ending Sept. 27, up 6.5% from 2007, with a gross profit of $1.3 billion.
While Aramark won't say how much it stands to make from this year's Olympics contract, Neubauer clearly hopes to leverage the high-profile deal into more business. China is one of his fastest-growing markets with annual sales of about $100 million. "I don't need to tell you how much the Chinese have been looking forward to these Olympics, how proud they are," he says. Aramark already runs employee cafeterias for Lenovo Group, Toyota Motor (TM), and Dell (DELL) operations in China, and has the contract to feed Formula 1 racing fans in Shanghai.
All the more reason to obsess over getting the Beijing Games right. To start, Aramark had to recruit nearly 7,000 mainlanders, mostly hospitality students, to staff its facilities and then teach them about Western standards of service in a matter of months. One challenge: teaching servers to make eye contact with customers and engage in some discussion of the food they are ordering. Aramark also asked the government to help local farmers learn how to cultivate unusual foods like squash, while teaching food suppliers the finer points of pizza- and ravioli-making. For Chinese food, Aramark deferred to a local partner's expertise, even building a hidden kitchen so that a renowned local chef could prepare his secret Peking Duck recipe away from prying eyes.
Coping with the country's nascent distribution network was daunting. Despite China's size and population, refrigerated trucks and warehouses are rare. Many people buy food at local markets, and shipping standards are lax. In March, Aramark, with a local partner, completed construction of a warehouse in Beijing to allow chilled and frozen storage for its food.
Although it has tried to buy most of its food in China, Aramark is importing somewhere between 20% and 30% of its ingredients, in part because it's too hard to find local sources of such mainstays of European and American diets as turkey slices for sandwiches. Aramark has been regularly running surprise soil and water inspections at supplier farms, but safety concerns linger for many. U.S. Olympic Committee spokeswoman Nicole Saunches says the U.S. team plans to import about a third of the food for its training facility at Beijing Normal University, standard practice for any Olympics. The U.S. delegation, she adds, "isn't concerned about the food that will be served by Aramark." So far, managers say, they have had no issues over food quality.
In putting together the massive project, Aramark executives say they have learned as much as they have taught. Catherine Toolan, Aramark's executive director for its Olympic Catering Services Project, says the slow and consensus-focused style of management in China has prompted her to "become a more patient person." Then again, nothing spurs action like a looming deadline. As Toolan puts it: "In the past six weeks people have really embraced decision-making."
Return to Business & Games Table of Contents
Before it's here, it's on the Bloomberg Terminal.
LEARN MORE