A Safe Stash for Big Cash
A Safe Stash for Big Cash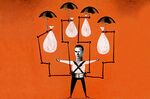 Just a few years ago, if you wanted to save much more than $100,000 in a certificate of deposit (CD) without losing federal deposit insurance, you faced the tedious job of opening accounts at an array of banks around the country.
Today, with deposit insurance more critical than ever, a growing number of savers are turning to a network called Certificate of Deposit Account Registry Service, or CDARS, to simplify the process and maintain insurance coverage on up to $50 million.
The service splits big deposits into chunks of just under $100,000 and spreads the money across a network of over 2,000 banks-one quarter of the entire industry. That way, large amounts can qualify for full insurance coverage, according to the Federal Deposit Insurance Corp., the government agency that oversees the insurance program. Only banks with the FDIC's highest "well-capitalized" rating can participate.
Customers choose a bank in the network (listed at www.cdars.com) as their "home base." They can choose between CD maturities ranging from four weeks to five years. A single rate of interest set by the home bank applies to the entire portfolio, and customers get one statement from their home bank that lists each holding. There's no fee for customers to participate, but Arlington (Va.) Promontory Interfinancial Network, which runs CDARS, charges banks an initiation fee to join the service as well as a fee of up to one-eighth of a percentage point on transactions.
The concept is the brainchild of three financial heavyweights. Co-founder Eugene Ludwig was the comptroller of the currency, a top banking regulator, from 1993 to 1998. Alan Blinder was vice-chairman of the board of governors of the Federal Reserve under Alan Greenspan from 1994 to 1996 ( and a former BusinessWeek columnist). And Mark Jacobsen was chief of staff at the FDIC in 1999 and 2000.
In their tenure as banking regulators, all three men heard frequently from smaller banks working hard to compete against giants like Bank of America (BAC) and Wachovia (WB). Small banks felt at a disadvantage competing for larger accounts in part because of the so-called "too big to fail" doctrine. Many customers believed—rightly or wrongly—that regulators would never let a major national bank fail, so they didn't worry about exceeding the deposit insurance limits at bigger banks.
The CDARS network, which was launched in 2003, was a way for smaller banks to try to level the playing field, at least when it came to deposit insurance. Now, worries about the soundness of the banking system are fueling CDARS' growth. Monthly deposit volume in the network has doubled since the start of the year, says Jacobsen, Promontory's president and chief operating officer.
Despite CDARS' top-notch pedigree, not all financial advisers are sold on the concept. Some complain the interest rates in the network are lower than those for standalone CDs. Others worry that if the single bank where a customer opened their CDARS account failed, all of that customer's funds could be tied up in FDIC recovery efforts. And other advisers say it's just not smart to keep so much cash in CDs when more flexible alternatives, such as money-market mutual funds, exist.
Resolving the rate riddle is not easy. CDARS doesn't track the individual rates offered by its members or calculate an average. Looking at third-party CD rate trackers can be misleading since almost all banks negotiate higher rates for their best customers or on large deposits. Still, some banks do offset the transaction fees they pay CDARS by offering slightly lower CD rates to CDARS users than they do to customers that don't use the network.
Many smaller banks, however, are willing to pay as much on CDARS deposits as on ordinary accounts. "We're in a growth mode and happy to get the business," says Ronald Reed, chief financial officer at two-year-old Bank of Cape Cod in Hyannis, Mass. It pays the same rates on CDARS and non-CDARS deposits, he says.
Then there's the fear of a CDARS account being frozen during an FDIC recovery. If an individual opened dozens of accounts on their own, a failure at one bank wouldn't affect their other CDs. But with the CDARS program, access to money spread across many banks could be delayed if the home bank fails. It's a "fatal flaw," according to Milo Benningfield, who advises high-net-worth clients in San Francisco. "It's a deal-killer for us." Promontory's Jacobsen says that if a customer's home bank failed and the FDIC transferred the bank's deposits to a more stable institution, Promontory could add that customer's new home bank to its network in less than a day. Plenty of banks are eager to get more CDARS customers, he says: "We're offering the crown jewels, and they'd be highly sought after."
CDARS isn't the only game in town. Some advisers say investors can just as easily use an online brokerage account to shop for CDs from a mix of banks. The customer gets a complete listing of all accounts on their brokerage statement, though rates and terms will vary, unlike in CDARS. Also, upstart brokerage firm FOLIOfn offers FDIC insurance of up to $2 million for cash savings by spreading deposits over a network of about 20 banks. And savers just over the $100,000 cap may not need CDARS to get full coverage—joint accounts opened with a spouse are covered up to $200,000 and individual retirement accounts are covered up to $250,000. But for those with a lot more cash, CDARS may be a good bet.
For more on keeping your savings safe, watch BusinessWeek TV. To see video clips or find your local station go to BusinessweekTV.com.
Before it's here, it's on the Bloomberg Terminal.
LEARN MORE