Why Did IndyMac Implode?
A report quotes customers and ex-employees claiming the firm fudged incomes and pressed for dubious loans
Dean Foust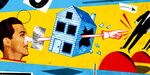 When IndyMac Bancorp (IDMC) began sinking last year from mortgage losses, CEO Michael W. Perry pinned much of the California thrift's woes on outside forces: speculators, plunging home prices, and the collapse of the Wall Street machine that purchased its mortgages.
But advocacy group Center for Responsible Lending suggests a different reason in a 22-page report it published before IndyMac was seized by regulators on July 13. Says Michael Hudson, a CRL senior investigator: "There was a culture of top-down pressure to push through as many loans as possible—and to ignore the problems."
Based on dozens of interviews and court filings, the CRL report makes the case that loan officers and even some IndyMac managers fudged borrowers' incomes and assets. Among the bank's customers: Methalee George, an 82-year-old widow from Rosamond, Calif. The grandmother claims an IndyMac employee doubled her monthly income, to $3,900—qualifying her for a bigger loan. "I think they've really done me dirty," George, who has defaulted on her mortgage, tells BusinessWeek.
Pat Harris, a disabled veteran, refinanced with IndyMac in 2006 to pay off credit-card and other bills. According to the report, Harris was told by a broker that loan payments would be $526 a month. But the St. Louis resident, who is suing IndyMac and an independent broker, claims the mortgage professionals inflated his monthly income from $910 to $2,500, and the actual payments were $631 a month. "It has left him deeper in debt," the suit alleges.
These don't appear to be isolated cases. Former employees quoted in the report describe an environment in which underwriters—who are supposed to serve as a check against overzealous loan officers—were pressured to approve dubious loans. In a shareholder suit filed in Los Angeles, a former employee says Perry told him "business guys rule" and "[expletive] you to compliance guys." Perry couldn't be reached, and the Federal Deposit Insurance Corp., which controls IndyMac, declined to comment.
On its corporate blog, IndyMac calls the report a "hit piece" that uses "unsubstantiated anecdotal evidence" from "disgruntled former employees." Given the lawsuits the lender faces, it may soon be clear whether IndyMac's problems stem from industry headwinds or rogue employees.
Before it's here, it's on the Bloomberg Terminal.
LEARN MORE