Six Flags CEO Mark Shapiro on the Summer Ahead
Six Flags CEO Mark Shapiro on the Summer Ahead
By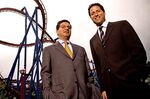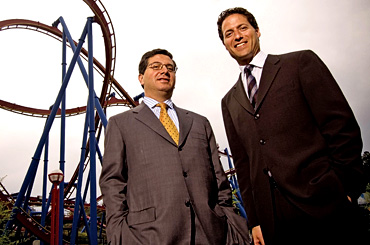 A CEO in his late thirties may be a tad too old still to be called a boy wonder, but it's hard to stop thinking of Mark Shapiro in those terms. That's because the CEO of Six Flags (SIX) first made his mark as a wunderkind at ESPN, where he began as a production assistant right out of college. By 32, Shapiro was running all programming and production and was responsible for creating hit shows such as Pardon the Interruption. Then in late 2005 another onetime boy wonder, Washington Redskins owner Dan Snyder, hired Shapiro to remake theme park operator Six Flags, over which Snyder had just won control after a proxy battle. For the past couple of years, Shapiro has been busy trimming the list of properties to 20 parks and reducing some $2 billion in debt. Will those efforts be complicated by a consumer recession? I asked Shapiro how the summer is shaping up.
MARIA BARTIROMO
If Americans stay close to home this summer, does that benefit Six Flags?
MARK SHAPIRO
Yes. A lot of people think, hey, [consumers are] going to stay close to home, just lower your prices and you'll be fine. But it's not just about lowering your prices. Anybody can drop prices and become a discount king. It's about providing more value. Families want more for less. They're strapped for discretionary income. But they're still going to do something. I don't believe families are just going to stay home and play in the backyard every single day of the summer. But where typically they might do three to five things per summer, they're looking for two or three things to do. So it's a much more crowded field than it's ever been, and it's going to be about value and something for everyone and close to home that make the difference between winners and losers.
Has Six Flags felt the slowdown?So far, so good. We haven't seen a lot of slowdown just yet. But having said that, school just let out. About 70% to 80% of our attendance is Memorial Day to Labor Day. Our season-pass sales are slower than they were at this time last year. However, we're up significant double-digits in one-day tickets.
What are you going to do for shareholders? The stock has gone from about 6.20 a year ago to under 2.What's behind the drop in the stock price is, first and foremost, the debt. Shareholders are wondering how we're going to take care of that, given where the markets are and given that we're highly levered. Secondly, nobody knows how this economy is going to play out. I think people are really wondering if it's going to take its toll on Six Flags. Here's what I can tell you. The business is in good shape. People are coming to the parks and, contrary to popular belief, they're spending more—as evidenced by our first-quarter results—than they did this time last year. Our goal was to get this company to free-cash-flow neutral in three years, and what I'm telling you today is that there's a real good shot at getting there this year.
Tell me about Dubailand. You announced Six Flags Dubailand in March, which is scheduled to open in 2011.It's strategically located. A flight from Paris is six hours. It's like going New York to L.A. So we're going to draw from Europe, from China, from the Middle East. Our vision is to stand out from the crowd. No matter what other theme parks and entertainment centers they're building, nobody does thrills the way Six Flags does.
Do you have other expansion plans in the Mideast?
We're in discussions for a water park in Qatar. We're also in discussions with Tatweer, the group we did the Dubai deal with, for a property in India. We announced a deal with a group out of Bahrain to develop a park in China. And we're in advanced discussions in Korea and Panama for a Six Flags property. So there's a lot going on.
You left a dream job at ESPN. How was the transition?I love sports.
But I had spent 12 years at ESPN, and after negotiating the deal to bring Monday Night Football from ABC to ESPN, to bring Nascar back to ESPN, and extending our relationship with Major League Baseball for another seven years, I felt that the near-term future wasn't going to be as much about major growth as it was going to be about maintenance. And then I looked at Six Flags, and it was really the fix-it play—given all the debt we were inheriting and how the parks needed a lot of fixing. I'm not about maintenance, I'm about growth.
After Dan Snyder took control of Six Flags, there was talk about turning it into a major entertainment brand, along the lines of Disney (DIS). Is that still the game plan?We're not going to be another Disney. I think that is a pipe dream. It's amazing what Disney has built...but that's 50 years in the making. On a smaller scale, do I think Six Flags can walk the same line? Absolutely.
Snyder has a reputation as a demanding executive. How do you guys get along?We get on famously. Our relationship really blossomed from negotiating the Monday Night Football deal. Dan sat on the [NFL] broadcast committee. So we got to know each other pretty well. He was a hard driver, very aggressive, but never unfair, never under the table. I value that, and that's how he's been at Six Flags. He's very involved on the marketing side, on the sponsorship side, on the relationship side. The thing about Dan is he's an insomniac, so he's up at all hours. If you need him at any time, you can get him. More important, he's always thinking about the business. So when you wake up in the morning, he's got 10 fresh ideas for you.
Apart from ABC and ESPN, who are you impressed with in television these days?I think [CBS (CBS) CEO] Les Moonves is really a creative genius. If you lose his brainpower, you're going to lose your prime-time lineup, period. It's interesting how the reality craze has taken over, how there is really a dearth of good sitcoms and dramas. Everybody is trying to find the next American Idol, the next reality craze. Some of the shows getting launched on prime time have no business being on any kind of television. There's no intelligence level required. On the news front, I've been very impressed with the way CNN has been able to come back at Fox News (NWS). For a while, it looked like it was going to be a one-horse race. I think CNN has had its act together during the primaries like nobody else.
Before it's here, it's on the Bloomberg Terminal.
LEARN MORE