Search Engine Optimization for Small Businesses
You, too, can figure out how to land atop the search heap
Eve Tahmincioglu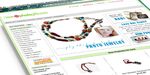 Jill Caren proves that even a one-person business can get top rankings on Google. Caren runs Marlboro (N.J.)-based Expressions Photo Design, and ilovephotogifts.com, her Web site, regularly lands among the first listings for anyone Googling "unique photo gifts," the keywords she thinks potential customers are using in searches.
It wasn't always that way. Caren's previous Web site, expressionspb.com, used to get buried in search results. Caren didn't know how she could improve her standing—a process called search engine optimization, or SEO for short—and approached the Web designer who built her site. When that proved fruitless, Caren took an SEO class online and started hanging out in online SEO forums. Pretty soon, she says, "I decided to redo my site entirely. Instead of leaving it up to someone else, I did it myself, and I could not be happier with the results."
It took Caren about eight months to understand what needed to be changed and how to do it. She launched her new site in June, 2007, and attributes a 21% increase in her annual sales, to about $80,000, to the relaunch. "In less than three months," she says, "I was on the first page of Google for many of my keywords." Now she doesn't do any advertising and is able to rely solely on search to bring in business. Here's how she does it.
THE TITLE SELLS THE BOOK
Titles are easy to overlook, but they're important to search engines. On your home page, the title should give as much detail as possible about what you sell. Other titles should highlight the items sold on those pages or the content that appears there.
Caren researched the keywords in the titles, general text, and coding on her site using goodkeywords.com (free), and wordtracker.com (about $300 for a year's subscription).
THERE IS SOMETHING IN A DOMAIN NAME
Your URL should specify exactly what you sell. Search engines look for keywords in a domain name that are related to the products or services a user is searching for. By changing her domain name from expressionspb.com to ilovephotogifts.com, Caren tells the search engines right from the start what her company does.
BLOG ALREADY
A search engine wants to see fresh content, and blogging is a great way to provide it. Caren blogs at least three times a week. "Google wants to see you're giving people something," she says. Her blog is on her own Web site (not with a hosted service), so that keywords appearing in the blog help her ranking. If she starts attracting comments, those will also count as updates to her site, further boosting her ranking.
TRUMPET YOUR PRODUCTS, BUT NOT TOO OFTEN
This is yet another place for Caren to include keywords for her wares. But be careful—endlessly repeating keywords is a frowned-upon practice known as "stuffing." It's a good way to make a search engine think you're a spammer.
BLUE LIGHT SPECIAL
Another opportunity to add fresh content—and score with the search engines. Caren includes information about weekly specials here and encourages people to sign up for her newsletter.
A PICTURE IS NOT WORTH A THOUSAND WORDS
Search engines cannot see images or videos, so Caren makes sure every image on her site gets some sort of short caption or description. She writes them herself, rather than using manufacturers' descriptions. Search engines notice if an item is described in the same way by hundreds of sites, and tend to weed those out. It's also a good idea to add text about each image in the site's coding.
CHART A COURSE FOR THE BOTS
Search engines use software called bots to search your site. A site map will help them find their way. Caren's map has links to over 30 products and their descriptions. She downloaded free coding for her site map from online shopping cart provider Zen Cart, which let her create a map that complies with Google specifications.
Back to BWSmallBiz June/July 2008 Table of Contents
Before it's here, it's on the Bloomberg Terminal.
LEARN MORE