PCI Builds Telecommunications in Iraq
Proactive Communications builds telecommunications infrastructure in Iraq and the world over
Amy S. Choi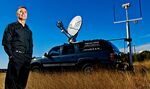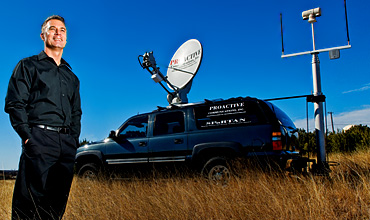 The expense reports coming into proactive communica- tions, a 37-person company in Killeen, Tex., don't list four-star hotels or fancy client dinners. "We go where there are bombs and bullets," says CEO and ex-infantry battalion commander Marc LeGare, who has employees working in Iraq. "Most of my employees are former military. They know when to put on their helmet. They know they might have a tent to sleep in—or maybe not."
Although LeGare retired from the Army in 2001, he and his staff often find themselves in hostile territory. PCI builds infrastructure for telecommunications satellites, working with the U.S. military, Iraq's government, and private enterprises.
PCI's niche is tough but lucrative. Conventional infrastructure isn't available in much of the Middle East, Africa, Eastern Europe, or South America, so governments are "leapfrogging into wireless and satellite communication," says Tim Street, an analyst with Frost & Sullivan. Overall, satellite communications is a $120billion industry. Fixed-satellite services, PCI's specialty, are growing at 10% a year, says Street. PCI is growing 18% a year and had revenues of $32million in 2007.
PCI prides itself on its relationship with its Iraqi business partners. "We are graduating our Iraqi employees from day laborers and engineers to program managers, so they can take over the work of rebuilding themselves," says LeGare. "Our commitment really helps the Iraqis feel comfortable with the fact that we are here as partners and not as profiteers." PCI has invested in spin-off companies run by Iraqis, and trained about 80 employees of its Iraqi business partners for free.
PIONEERING PARTNERSHIPS
LeGare, 48, was hired as PCI's business manager in 2003 and named CEO in 2006. His deal with Iraq's Ministry of the Interior makes PCI the first U.S.-based company to work directly with that branch of Iraq's government. PCI has since built a satellite network with voice and data systems for the ministry. Colonel David Vega, director of communications for the Multi-National Security Transition Command for Iraq, says information that once took days to get from the ministry's national headquarters to its 200-odd locations is now instantaneous. PCI's network also serves the Prime Minister's National Operations Center and the Provincial Operations Centers, both used by the police and Iraqi Army to coordinate security.
LeGare has yet to see violence affect PCI's efforts. "If somebody was selected for our program, he'd already passed a very rigorous set of security measures," he says, noting that the trainees are of various faiths. "These men will readily talk about their beliefs, but it doesn't affect the work. Their devotion to the training program is mind-numbing."
PCI is working to expand its private-sector work, which makes up about 60% of sales. In New Orleans, PCI built a telecommunications system in neighborhoods damaged by Hurricane Katrina. In 2007, it inked a deal to build emergency communications for a regional medical center in Louisiana. Next, LeGare wants to work with international construction firms in Africa.
LeGare is more than satisfied with this gig. "Battalion command is one of the most rewarding jobs you can have, but now I ask myself: Where have I really made a significant impact? In my second career."
Back to BWSmallBiz April/May 2008 Table of Contents
Before it's here, it's on the Bloomberg Terminal.
LEARN MORE