This Is Not Your Father's Diesel
A slew of high-mileage models destined for the U.S. market could give hybrids serious competition
Adam Aston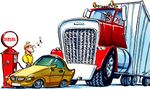 For most of the past century, diesel engines have been associated with smoky, smelly trucks and buses. Now there's a surprise: A new generation of diesel-powered passenger cars is delivering punchy performance and emission levels so low they pass muster in all 50 U.S. states. Boasting good fuel efficiency, the new "clean diesels" may well overtake hybrids in the market for eco-cars.
Built mostly by overseas carmakers, improved diesels already account for more than 50% of new-car sales in Europe. North America is the next target. Volkswagen (VLKAY), BMW, Mercedes-Benz (DAI), Honda (HMC), Kia, Mahindra, and others have announced nearly 20 new diesels bound for U.S. showrooms starting this year.
The updated engines still burn a little dirtier than modern gas or hybrid vehicles, but emissions are low enough to pass even California's ultra-strict pollution limits. Plus, the cars offer hybrid-like mileage at more affordable prices. "Clean diesels have real potential to shake up the green-car market," says Mike Omotoso, senior manager at J.D. Power & Associates.
Today, diesels account for just 6% of sales of light-duty vehicles in the U.S. But that should hit 15% by 2015, according to Robert Bosch, a German components maker that supplies parts for both gas and diesel engines. In contrast, hybrids are expected to inch up from 2.2% of sales today to about 6%.
And while trucks and SUVs currently make up most U.S. diesel sales, the action is shifting to high-mileage sedans. Consider VW's experience. A few years ago, it had to pull most of its popular diesels from the U.S. market to comply with tougher emissions rules. This year, the company is launching an updated diesel Jetta in all 50 states. Honda also has a tale to tell. After suffering an embarrassing flop with its hybrid version of the Accord, Honda is replacing it with a diesel model adapted from its European line and plans to sell a six-cylinder diesel Acura.
ADDING UP THE NUMBERS
The high fuel efficiency of diesel cars makes for attractive economics. Compared with similar gas engines, diesels deliver up to 35% better mileage. So even though prices for diesel at the pump are now running about 12% more than gasoline, per-mile fuel costs for new diesel cars are 15% to 20% lower than for gas-powered autos.
Add up the numbers, and diesel owners may do better than drivers of hybrids. According to researchers at Edmunds.com, shoppers who chose a Toyota Camry Hybrid over a comparable gas-driven model last year paid premiums of as much as $3,800. With gas at $3 per gallon, it would take those buyers anywhere from 3 1/2 to 8 years to recoup the higher cost through savings on gas. In contrast, the premium on a Mercedes E320 Bluetec diesel was about $1,400, and the fuel savings would pay off in under 2 years.
Diesel makers still have some work to do in reducing smog-forming compounds to the levels of those emitted by gas-powered cars. But promoters are confident the cars are clean—and zippy—enough to win over drivers. The advantages over hybrids will be part of the sales pitch this autumn when BMW debuts the 335d diesel sedan, not yet priced, to U.S. showrooms. Its 3-liter, 6-cylinder engine will deliver a hefty 265 horsepower while getting 23 mpg in the city and 33 mpg at highway speeds—about 27% better than the gas-powered 335i. Hybrids, says Rich Brekus, general manager of product planning and strategy for BMW North America, wow customers on the fuel savings side, not with high performance. "Clean diesel can do both."
Before it's here, it's on the Bloomberg Terminal.
LEARN MORE