From South Asia to iTunes
How a husband-and-wife team turned an Indian music podcast series into a business and is making the most out of its Apple storefront on its Web site
Reena Jana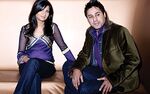 Anjula Acharia-Bath made sure she was in the right place at the right time. The co-founder and CEO of online entertainment portal DesiHits had heard nothing but no from Apple (AAPL) after repeatedly pitching a sales partnership. She didn't lose heart. Instead, she happened to hit connection paydirt while dining at her regular hangout, Tamerine, a Vietnamese restaurant that's a hot spot for Silicon Valley venture capitalists. In January, 2006, she overheard two diners talking about Guy Kawasaki, a former Apple executive turned venture capitalist, as if they knew him well. Acharia-Bath introduced herself and asked how she could get a better reception from Apple. One of those diners, Barry Weinman, co-founder of Allegis Capital, soon introduced her to his contacts at Apple.
Today, DesiHits, which is moving from Santa Clara, Calif., to New York City, sells Indian music from Bollywood hits to Bhangra classics, remixed with rap and pop, via iTunes, Apple's online music store. DesiHits podcasts are available on iTunes as well. And on DesiHits' Web site, visitors can find entertainment news, interviews, and other original content aimed at Desis, the Hindi term for the 20 million or so South Asians living around the world, including 1.9 million in the U.S., according to a 2004 U.S. Census count. In recent months, it has also become a destination for well-known American rappers such as LL Cool J, 50 Cent, and Lupe Fiasco to promote their music.
Like most Web startups, the site's strategy is first to build an audience, then use those numbers to lure advertisers. In the meantime, the site is making money from downloads. Acharia-Bath says traffic is up as well, with almost 1 million unique visits to the site in February, 2008, up from about 800,000 the previous month. That may not be a staggeringly high number, but it beats long-established MTVIndia.com.
Speaking to an Identity
The idea for a music site grew out of Ranj Bath's podcasting hobby. Bath, who is Acharia-Bath's husband and co-founder, had deejayed mixes of Indian and pop music at parties since his days at the University of Westminster in London. After the couple, both children of Indian-born parents who moved to Britain, relocated to California, they scoured entertainment magazines and Web sites but found little sign of fusion culture, that hybrid of Western and South Asian music popular with their generation. Says Bath: "We saw that other Desis were struggling to find online sites that spoke to their identities." Bath, 38, then a marketing manager for Intel (INTC), and Acharia-Bath, 36, a former headhunter for Forsyth Group Executive Venture Search, decided to launch DesiHits in their spare time with about $35,000 in savings.
At first, the site was no more than a podcast series on hip Indian music. As it gained popularity, the couple enlisted Arun Sandhu, 28, a friend who had worked at Star TV and Bravo, to produce original content. In 2006, Acharia-Bath was introduced to Draper Fisher Jurvetson, a venture capital firm known for its early-stage investments in Web businesses Skype (EBAY) and Baidu (BIDU), asking for more than she thought she would get: $1 million. No problem. The couple quit their jobs and assembled an unpaid advisory board from industries other than music and entertainment, hoping to tap into expertise that will help them develop an advertising model and other revenue streams.
Previous attempts to reach the niche have foundered, notes Mira Kamdar, a senior fellow at the World Policy Institute, a Washington think tank with a global bent. "MTVDesi was canceled despite lots of the same hype DesiHits has," says Kamdar. And Columbia University marketing professor Gita Johar says the group is highly fragmented: "I would argue that not all Desis are the audience, as there are many subsegments and cultures within the South Asian population."
One way around those potential potholes may be to attract a broader Indian audience. Right now, about 29% of desihits.com traffic is from India, according to page-view tracker Alexa. Bath says DesiHits isn't marketing directly to Indians, but he is confident the site will engage them—as well as listeners not of South Asian descent—as the site becomes more well known. Says Bath: "They're finding us."
Before it's here, it's on the Bloomberg Terminal.
LEARN MORE