Energy Efficiency: A Passing Fad?
With gas prices skyrocketing, conservation is back in style. Here's a look at how the trend is playing out and whether it's here to stay
Moira Herbst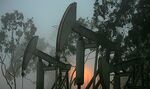 After years of consuming ever more gasoline and other petroleum products, Americans are slowly starting to change their ways. Sour economic forecasts and soaring energy prices are now leading consumers to pump less gasoline, buy fewer and smaller cars, and use public transport at the highest rates in 50 years. At the same time, companies are looking to cut costs by becoming more energy-efficient, and the next President could oversee the first federal tax on carbon emissions.