Al Gore's Convenient IPO
CurrentTV's parent is launching a public offering whose terms, though sweet for the company's high-profile founder, may be inconvenient for investors
by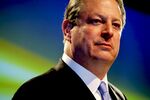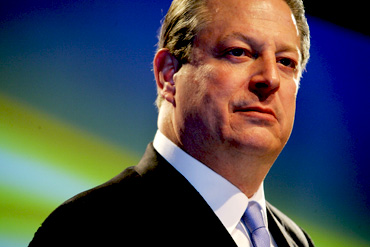 What's an Emmy worth? If you're former Vice-President Al Gore, it's worth just north of $1 million a year and roughly another $48 million in stock. That's a hefty sum for a guy who of late has traveled the globe as a goodwill ambassador for mankind, stressing the need for humanity to wake up to the dangers of global warming.
Where's Gore getting the dough? From a tiny, lightly watched cable TV channel called CurrentTV. The channel is available in roughly 41 million U.S. homes (about half the viewers of ESPN or CNN) and over the last three years has lost $31.5 million while increasing revenues to $53.5 million from $23.4 million three years ago. Still, CurrentTV may be the next hot thing—it won the Emmy last year for its ability to present a forum for user-generated content from its mostly younger viewers. "It is true participatory media," Gore told me in a Beverly Hills hotel room the day after the Emmy presentation, grasping the gold statue as he spoke.
Cash and Control
Or maybe it's an IPO bust waiting to happen? In the financial election of his life, Al Gore is betting that investors will vote with their dollars for him and his big idea. CurrentTV's parent company, Current Media, hopes to raise $100 million in a public offering it filed on Jan. 28. Some of the money will go to pay off lenders, who include a couple of Democratic Party biggies that joined the onetime Veep to launch a new style of citizen-journalism. Of course the IPO will also help make Gore, who sits on the board of Apple (AAPL) and is a senior adviser to Google (GOOG), a sizable bundle of cash.
Something about this deal just doesn't sit right with me. Gore isn't just taking piles of cash. According to the filing Gore, who is listed as executive chairman, and his CEO partner, lawyer-turned-entrepreneur Joel Hyatt, each loaned the company $1 million to get it started. They'll get that back in the IPO. But the two guys also collect hefty salaries for a company that hasn't shown a profit in three years—taking down $491,677 apiece last year in cash, plus bonuses of $550,000 each for, in Gore's case, helping get the company new affiliate agreements, broadening exiting agreements, and putting together a management team. The two currently receive $600,000 a year in salary and are eligible for additional bonuses, according to the IPO filing.
By comparison, at the time of the Google IPO in 2004, its two founders were each taking home a total of $356,556 in salary and bonuses, while sitting on top of a company that had earned nearly $106 million the year before.
Outsize Shareholder Clout
What really sticks out to me, however, is that Gore and Hyatt, who started the company in 2002 (and jump-started it with a broken-down Newsworld International channel they bought for $70.9 million) will have the kind of hammer-lock control over the company decried by shareholder rights activists and many of the same unions that supported Gore for years. According to the filing, once the dust has settled Gore and Hyatt will control all of the company's Class B shares, which give them 10 votes for every vote a common shareholder gets with a Class A share.
The company hasn't said how many shares it will issue, so there is no way of knowing just how much control Gore and Hyatt will exercise. But the Google founders, who also control their company's Class B shares, hold nearly 56% voting control of the company (of course, far as I know, they never ran for public office).
CurrentTV executives say they can't comment during the IPO quiet period. But a source with knowledge of what the board was thinking says that it gave Gore and Hyatt B shares to maintain the channel's editorial integrity and vision, and for advertisers to be sure of its future direction.
The board, according to this source, believes Current TV isn't a typical media company in that it has a mission to make sure young people can share their views. Other media companies, including the New York Times Co. (NYT) and Dow Jones (NWS), have issued B shares so that their founders could maintain their editorial voice as well. (The New York Times is now facing a proxy battle with its largest shareholder to elect its own shareholders in a battle of wills with the B shareholders.)
Sorry, but I don't buy the rationale for this preferential treatment. This Class B share stuff just stinks, especially for a man of the people like Al Gore. "That's hardly democratic—with a large D or a small d," agrees University of Delaware corporate governance expert Charles Elson. "The irony is that this is coming from a Democratic leader."
Dissent on the Board?
Who voted Gore and his partner big money and even bigger control? The IPO filing discloses that the compensation committee used an outside counsel to determine salary and bonuses for Gore and Hyatt. But there's also a question as to whether every board member agrees with the way the compensation has been structured.
Clearly the Current Media board made the ultimate decision. The board is filled with former Democrat biggies, including major fund-raisers such as Ron Burkle (a money manager who pals around with Bill Clinton) and venture capitalist Richard Blum, who is married to Senator Diane Feinstein (D-Calif.). But strangely, the IPO is signed by all the board members except two: Burkle and his longtime associate Edward Renwick, who works at Burkle's Yucaipa Companies investment firm. That firm invests money for pensions that include the California Public Employees' Retirement System, a leader in shareholder rights activism.
That leads to the logical conclusion that at least some CurrentTV backers thought the Class B shares were a bad idea. The other independent board members are former MTV president Mark Rosenthal and Orville Schell, director of the Center on U.S.-China relations at the Asia Society. I have no idea what any of them thought since the company, despite repeated requests, would not make any of the board members available during the current quiet period. Individual calls to Burkle and Blum went unanswered; Gore's office declined comment.
There are other red flags in the prospectus. How much of Gore's time will shareholders get for the $1 million or more they're paying him? That is hard to tell. The proxy notes that the former Veep "has a number of other commitments that limit the amount of time he can devote to our business." And, in fact, Gore doesn't even have a contract. Six months down the road—at the end of a lock-up for him to sell his stock—he could bolt altogether, the proxy notes. Were he to leave, the company says, "our relationships with key distributors and our business could be materially and adversely affected."
Is It Worth It?
All of which makes me think this IPO will be one tough sell for JPMorgan Chase (JPM), which is managing the deal for several underwriters. There is no date set for the filing, and Current Media has yet to say how much it intends to ask per share. But SECinvestor.com, which tracks federal filings such as IPOs, figures it could go for between $13 and $15 a share, making Gore's 3.7 million A shares worth somewhere north of $48 million. One assumes that building the value of that stock would give him incentive enough to stick around.
Still, I'm left wondering why anyone would want to invest in Al Gore's dream, worthwhile as it may appear. Sure, he may have tapped into something special, giving voice to folks on the tube by allowing them to post their videos on TV. (Other videos show up on CurrentTV's new online site.) And he does have a crew of young pros who also add their own shows on current events and issues such as the war in Iraq and the drug trade. To get an up-close-and-personal view of Hurricane Katrina, a CurrentTV report came from a New Orleans native navigating the flooded city in his flat-bottomed boat while helping to rescue stranded survivors. A CurrentTV Webcam reported the human misery of folks caught in last fall's southern California fires.
If you're part of the 18-to-34 demographic that Current is targeting (regrettably, that leaves me out), this can be engaging, entertaining stuff. Whether that translates into a sustainable business model is hard to tell. The channel isn't yet rated by Nielsen, although it does have some big-name advertisers like Toyota Motor (TM), Johnson & Johnson (JNJ), and General Electric (GE). Still, they cough up only a little over $9.9 million a year, or about 15.6% of Current Media's $63.8 million in 2007 revenues.
Simply put, this is a very big leap for an investor to make. And not many will want to try. I like Al Gore—his politics, his steadfast defense of a cleaner environment, his forward-looking view of the world around him. The one time I interviewed him, he even sent along his best wishes to my mother, who, as I had told him, was one of those in Florida who voted for him in 2000 (hanging chads and all). But I am totally bewildered by what possessed a good man to make a bad decision like this IPO. Talk about your inconvenient truths.
Before it's here, it's on the Bloomberg Terminal.
LEARN MORE