Consumer Vigilantes
Memo to Corporate America: Hell now hath no fury like a customer scorned
Jena Mcgregor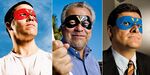 In the annals of customer service, 2007 will go down as the year fed-up consumers finally dropped the hammer. In August a 76-year-old retired nurse named Mona Shaw smashed up a keyboard and a telephone in a Manassas (Va.) Comcast (CMCSA) office after she says the cable operator failed to install her service properly. During her first visit to the branch outlet, the AARP secretary says she was left sitting on a bench in the hallway for two hours waiting for a manager. She returned, armed with a hammer, and let loose the rallying cry "Have I got your attention now?" Afterward, she was arrested, fined $345, and became a media sensation, capturing the hearts of frustrated consumers everywhere. (Says Comcast: "We apologize for any customer service issues that Ms. Shaw experienced.")
Three months earlier, in May, Michael Whitford uploaded a video in which he chooses among a golf club, an ax, and a sword before deciding on a sledgehammer as his weapon of choice for bashing his nonfunctioning Macbook to smithereens. In the video, Whitford, a systems engineer from Chandler, Ariz., says that Apple (AAPL) declined to cover the repair under warranty, citing damage from a spilled liquid. More than 340,000 people have viewed the black-and-white smash-up on YouTube (GOOG). Whitford, whom BusinessWeek was not able to reach for comment, denies in the video that he spilled anything. In early July, he wrote on his blog that Apple had replaced his laptop. "I'm very happy now," he wrote. "Apple has regained my loyalty."
Meet today's consumer vigilantes. Even if they're not all wielding hammers, many are arming themselves with video cameras, computer keyboards, and mobile devices to launch their own personal forms of insurrection. Frustrated by the usual fix-it options—obediently waiting on hold with Bangalore, gamely chatting online with a scripted robot—more consumers are rebelling against company-prescribed service channels. After getting nowhere with the call center, they're sending "e-mail carpet bombs" to the C-suite, cc-ing the top layer of management with their complaints. When all else fails, a plucky few are going straight to the top after uncovering direct numbers to executive customer-service teams not easily found by mere mortals.
And of course, they're filling up the Web with blogs and videos, leaving behind venom-spewed tales of woe. "There's a certain degree of extremism that's popping up, [a sense of] I'm going to get results, whatever means necessary,'" says Pete Blackshaw, executive vice-president of Nielsen Online Strategic Services, which measures consumer-generated media. "Companies can brush these off as being atypical, mutant consumers, or they can say there's a very important insight in [their] emotions."
Behind the guerrilla tactics is a growing disconnect between the experience companies promise and customers' perceptions of what they actually get. Consumers already pushed to the brink by evaporating home equity, job insecurity, and rising prices are more apt to snap when hit with long hold times and impenetrable phone trees. Just ask those who responded to our second annual ranking of the best companies for customer service, which uses data from J.D. Power & Associates (MHP). The average service scores for the brands in our study dipped slightly this year, and about two-thirds of the names that were in both years' studies were lower. (Like BusinessWeek, J.D. Power is owned by The McGraw-Hill Companies ( 2 3 4 Next Page
Before it's here, it's on the Bloomberg Terminal.
LEARN MORE