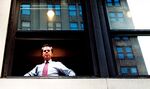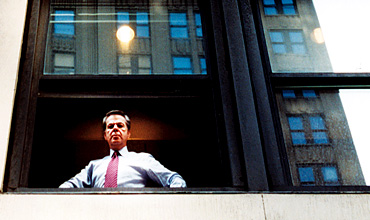 (Correction: This story incorrectly stated that GroupM CEO Irwin Gotlieb had accompanied Steve Ridley, who runs subsidiary Kinetic in the Americas, on calls to U.S. outdoor advertising companies to discuss a plan to revise ad-purchasing arrangements; Ridley's visits were made without Gotlieb. The story also inaccurately said that advertising rebates are prohibited in France. While France set strict limits on rebates in 1993, requiring that the terms of any such arrangements be spelled out contractually, it did not ban them outright. The story should have included GroupM's assertion that its policy is to include any rebate arrangements in client contracts. While the article correctly noted that Gotlieb expects GroupM to continue to expand its sources of revenue, it incorrectly stated that he predicted GroupM might eventually stop representing advertisers at all.)
Wherever media and advertising executives gather—from future-of-the-industry confabs to magazine award luncheons—you will find a 58-year-old man with the haggard look of someone who would rather think than sleep. He rarely seeks people out at these events, but lets them come to him. And come they do: CEOs, CMOs, and network bigs, all jostling for face time. Eventually this man will mount the stage. A reverent hush will descend. Irwin Gotlieb, the most powerful man on Madison Avenue, is about to speak.
In his pensive, reedy voice, Gotlieb will typically lay out his vision of the future: billions of consumers in a global bazaar of digital media, advertisers seeking them out with hyper-targeted ads, can't-miss analytics. And he will inevitably explain why his media-buying company, GroupM (WPPGY), will remain central even as the world moves online.
Clients, Wall Streeters, media executives—all listen because Gotlieb is the world's most successful media buyer. He hates the term, preferring to call his business "media services." But he's a media buyer. What does he do? In the simplest terms, he uses scads of consumer data to help clients figure out where to spend money on ads—TV, magazines, Web portals, video games, and so on—and then buys the time or space. Last year, GroupM bought some $60 billion worth of ads for a roster of blue chips.
All media agencies use their massive buying clout to extract the best possible deal from the TV networks, billboard companies, and Web portals. But none of them exploits its scale quite as lucratively as Gotlieb. GroupM earned just over $400 million in operating income on revenues of more than $2 billion last year. That's a big chunk of the income netted by GroupM's parent, the advertising behemoth WPP Group.
But at a time when recession is in the air and ad spending is tepid, it's getting harder to keep profits growing briskly for his increasingly demanding overlords at WPP. So he is looking for new ways to earn money in the U.S., the world's largest advertising market. Gotlieb is known as a Digital Age oracle. But he is putting a new twist on a surprisingly old-fashioned moneymaking model—one that has been banned in France since 1993 and now is under fire in Germany.
The practice is known in the advertising industry as a rebate or "volume override." Here's how it typically works in Europe. A media-buying agency approaches a TV network or magazine publisher and offers to buy a large number of ads. In exchange, the network or publisher pays the media buyer a percentage of the total advertising tab. The media company may write a check, give away free ad spots, or agree to buy something from the agency—a research study, say. Sometimes media buyers share the proceeds with clients. Sometimes they don't.
The rebates are controversial because they present a potential conflict of interest: Media buyers could be tempted to place ads not where they make sense for a client but where the rebates are the fattest. When the French government banned the practice, it required media buyers to act exclusively as agents of their clients when purchasing advertising space or time. Rebates are common in most of Europe. But advertisers often hire auditors to keep an eye on their media buyers—and even then, auditors say, it's not easy to spot such payments.
In Germany, rebates have attracted the authorities' attention because the nation's two largest broadcasters, RTL Group and ProSiebenSat.1 Media, were paying media buyers rebates if they agreed to commit a certain percentage of their national ad budget. Antitrust officials saw such "sharedeals" as a way for the two companies to freeze out smaller rivals. In November they fined RTL and ProSiebenSat.1 Media $140 million and $175 million, respectively. Both companies say they have since halted such sharedeals but acknowledge that they pay fees to media buyers in exchange for bulk ad purchases. "All these rebates belong to the advertisers and should be passed on to them," says Joachim Schütz, who runs the German Advertisers Assn., an industry body.
Rebates have been virtually unknown in the U.S. Now Gotlieb is looking to get money from outdoor advertising companies, which put ads along highways, in airports and multiplexes, and even in city buses. Asked if he plans to expand into other media, Gotlieb says local TV is "quite possible." The GroupM chief says that once he has inked enough deals, he'll tell clients how the rebates work. And he says the plan won't take effect until everyone is in the loop. He refers to the payments as just one "intelligent application of scale" and says they represent a minor part of a plan to derive new sources of income in an increasingly competitive world. "We're simply facing reality," he says. "We know what we have to do and will be proactive about it."
The danger for Gotlieb and GroupM seems clear: He risks alienating the very clients who helped propel him to the pinnacle of the media-buying world.
RISE OF A QUANT
When Irwin Gotlieb began working on Madison Avenue in 1970 at the age of 20, media buyers were powerless. People like Gotlieb usually represented one client and sometimes controlled just a sliver of that advertiser's budget—say, the money spent on ads during prime-time TV news. With budgets so divvied up and with so few options to reach masses of consumers, ABC (DIS), NBC, and CBS (CBS) practically dictated prices. Gotlieb dreamed of getting an edge over the networks.
Before becoming an ad man, he'd worked in New York's sharp-elbowed diamond district. There Gotlieb learned a thing or two about numbers. A savvy diamond cutter tracks prices for all sorts of polished jewels and imagines dozens of ways to cut up a rough stone before deciding how to milk it for the most money. Gotlieb wanted to bring a similar discipline to ad-buying. In 1976 he wrote a computer program that projected advertisers' demand for TV spots. This helped him decide how many ads to buy ahead of time at a discount. Later, he and his team began combing through consumer research and ratings data to find cheap but promising shows with which he could lock up multiyear deals. (One early find: a Chicago talk show hosted by a young woman named Oprah Winfrey.)
By the 1980s, Gotlieb was running the media department at A-list agency D'Arcy Masius Benton & Bowles and had become a nerd god to advertisers. For the first time, deep, analytical data—not just the gut instincts of Mad Ave ad-makers—were informing their buying decisions. "Irwin was the most forward-thinking person in media," says Bob Wehling, then Procter & Gamble's (PG) chief media buyer. "I trusted him implicitly." Gotlieb, having won his clients' respect, began looking for ways to wield his power more effectively.
He got his next big break in the 1990s, when a wave of consolidation transformed the industry. Scores of full-service ad agencies were subsumed into five giant, publicly traded holding companies. One was London-based WPP. To generate more income and please investors, the holding companies put their media-buying operations under one roof and spun them off into separate divisions. It made sense: The new media agencies would combine their clients' ad budgets, helping them achieve economies of scale, and start making real money.
In 1999, Gotlieb took charge of what was to become GroupM. But the world was changing fast, and by 2002 he understood he needed to stay ahead of the curve or risk being made redundant by a Google or a Microsoft (MSFT), which were threatening to automate the business.
His clients, bewildered by all the changes, were looking for a trusted guide. Gotlieb had an answer for almost every threat. Viewers using digital video recorders to blast past TV commercials? He would circumvent the menace by stepping up product placement. GroupM (like other media agencies) has built an entertainment division to produce programming designed around advertisers' products or messages. Recently, for example, a GroupM agency produced Exposing the Order of the Serpentine, a faux Spike TV documentary designed to sell Axe Snake Peel Shower Scrub for Unilever.
OVERSEAS MODEL
Gotlieb persuaded clients that he could bring Web-style analytics to TV. GroupM has a minority stake in InVidi, which tracks channel-surfing behavior to deduce who's watching what. Another recent investment: Visible World, which lets marketers customize 30-second spots to specific customers and locales. On the Web front, GroupM is doubling, to 2,000, the size of its worldwide digital staff. Clients seem impressed. "To have someone at the helm who is so knowledgeable about the future of the industry provides a tremendous amount of confidence," says Wendy Clark, the chief marketing officer at AT&T (T), which in October hired GroupM as its main media buyer. "He played a definite role in our decision."
Gotlieb's Web and TV innovations are bringing in money. He is signing up more clients than any of his rivals. And GroupM is the biggest media-buying operation in the world. But it may not be enough at a time when advertisers are stingier about paying media agencies. Gotlieb's boss, WPP Chairman and CEO Martin Sorrell, is counting on continued earnings growth. So is Wall Street.
Which brings us to rebates. It's not hard to understand why Gotlieb wants to replicate the business in the U.S. Rebates can be worth 1% to 15% of a multimillion-dollar advertising budget, as much as a client pays a media agency to place ads. In fact, according to a former GroupM insider, rebates recently generated more than a third of European annual profits at GroupM agency MediaCom. GroupM acknowledges its European agencies get such income from media owners but calls assertions that MediaCom generated a third of its European income that way "absolutely ridiculous."
Why might GroupM zero in on outdoor advertising in the U.S.? Although small, it's the third-fastest-growing medium. And the sector is fragmented: In addition to such giants as CBS Outdoor (CBS) and Clear Channel Outdoor (CCU), it includes startups eager to attract advertising. In 2005, GroupM formed a separate division, Kinetic, to handle its outdoor ad buying. In recent months, Gotlieb and Kinetic CEO Steve Ridley have been making the rounds of U.S. outdoor companies. Here's what they say is on offer: In exchange for a large ad purchase, Kinetic will sell the outdoor companies "tools and services" designed to help them prove their marketing efficacy to advertisers. This does not amount to a rebate, says Gotlieb. It's simply payment for services rendered. But Gotlieb acknowledges that the price is a straight percentage of what Kinetic's clients spend each year with the outdoor companies. (One person familiar with the situation pegged the fee at 1.7%.)
Kinetic has an agreement with billboard companies JCDecaux Out-of-Home Media Group and Titan Worldwide. It also is in discussions with a broad range of other outdoor companies, including Clear Channel Outdoor, CBS Outdoor, and Screen Vision, which supplies the commercials you see in movie multiplexes. But several outdoor executives who know about the plan express reservations. "It's wrong," says one, who requested anonymity for fear of losing Kinetic's business. "It defies all the fundamentals of what agencies should do: buy ads based on the merits of the advertising. I want to win deals on merit, not because I've agreed to award a rebate."
Gotlieb says he has briefed one "major, global" client about the Kinetic program and got its blessing, although he declined to name the advertiser. BusinessWeek contacted several Kinetic clients; most declined to comment and said they hadn't heard about the rebate deals. But one Kinetic client did express wariness. Rebates are fine, says Burger King Holdings (BKC) marketing president Russell B. Klein, so long as they are done transparently and the connected ad buys are monitored closely. That's partly why Burger King analyzes an ad campaign before and after its run and requires media buyers to provide affidavits that the money was spent in the right place. "If it were simply someone saying, Here's 10 million bucks,' and the person secured rebates and there was no checking up on it," he warns, "that would be another matter entirely."
As far as Gotlieb is concerned, the rules have changed. In a world where ads can be customized to the individual and every click and ad view measured, he says, advertisers and media companies alike will gladly pay for his quantitative expertise. In five to seven years, he predicts, he may not represent advertisers at all. He will be an arbitrageur, buying ads in bulk, slicing them up for niche audiences, and reselling them at a premium. "Then," says Gotlieb, "we don't have to be transparent."
Before it's here, it's on the Bloomberg Terminal.
LEARN MORE