Are H-1B Workers Getting Bilked?
Overseas companies are accused of underpaying foreigners on work visasand hurting U.S. wages
Moira Herbst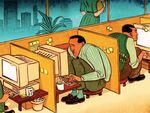 A few years ago, Vishal Goel had high hopes of moving from his native India to the U.S. to work as a computer programmer. He approached Patni Computer Systems, a Mumbai company that provides tech services to many American businesses, and Patni agreed to apply for a U.S. work visa on his behalf. By 2004, Goel was in Bloomington, Ill., working for Patni at State Farm Mutual Automobile Insurance, the largest car insurer in the country.
But this was no dream job come true. Goel's base salary was $23,310, about half the $44,000 that Patni had said it would pay on the visa application, according to a lawsuit he has filed against the company. When Goel complained, one official said that Patni would brand him a "troublemaker" and that his parents in India would be harassed unless he stopped, the suit alleges. Goel, who left Patni in 2005, filed suit in November, 2007, in federal court in Illinois. He's suing along with a former colleague, Peeush Goyal, who alleges he was subjected to similar treatment. Patni declined to comment, though in court documents it denies the charges.
Goel's is not an isolated case. A number of the most active users of the work-visa program, for what are known as H-1B visas, have been accused of underpaying or otherwise mistreating workers. Last year, Patni paid $2.4 million to 607 H-1B visa workers after a Labor Dept. investigation uncovered systematic underpayment of wages. "I highly suspect that these employment practices are widespread among the tech-outsourcing firms," says Ron Hira, assistant professor of public policy at Rochester Institute of Technology, who will testify as an expert witness in the Goel case.
The Goel lawsuit is one of the first filed in U.S. courts by a visa worker against his employer, perhaps because of the murky legal status of such workers. The estimated 500,000 people in the U.S. on H-1Bs are by definition citizens of other nations, and they're usually beholden to employers that can transfer them home at will. The Goel case provides rare insight into how one outfit allegedly has treated workers it brings into the U.S.
SIMPLE GREED
In their case, Goel and Goyal say that Patni regularly underpays employees in the U.S. "This forces the same financially strapped individuals ... to incur the expense of retaining an attorney to try and obtain the money to which they are entitled," the suit charges. If workers complain, the plaintiffs say, Patni threatens to sue them. They charge that Patni's motivation is simple greed. "The more H-1B employees that Patni is underpaying, the more total profit that is made by Patni," the suit alleges.
Goel, Goyal, and their lawyer, Thomas J. Arkell, declined to comment for this article because the litigation is ongoing. Patni says in court papers it didn't promise Goel $44,000 and says he has no "right to action" because he has no claim under the laws cited in the case.
The Goel lawsuit raises questions for U.S. workers, too. The H-1B program requires companies that bring employees into the U.S. to pay the prevailing wage in that job, so as not to depress the salaries of Americans in similar occupations. Documents filed in the suit appear to show that Patni told the Labor Dept. it would pay Goel a base salary of $44,000, which it said was more than the $43,867 prevailing wage it determined for a midlevel programmer and analyst. Yet even after working the equivalent of 23 days of overtime at $11.72 an hour, Goel earned a total of $35,305 in 2004. "Patni's underpayment of wages not only harms its H-1B employees but also harms the wages of U.S. employees," the lawsuit charges.
Many prominent U.S. companies use outsourcers, especially for tech services and support. Patni's largest client is General Electric (GE). Others include MetLife (MET) and Jude Medical. GE and MetLife declined to comment on Patni and whether they monitor how it manages its workers. St.
Jude says it advocates for contract workers who file complaints, although no Patni workers have done so.
State Farm has turned increasingly to Patni and is now its No. 2 client. Dick Luedke, a State Farm spokesman, says that visa workers receive fair treatment. "Working conditions at all our State Farm locations are monitored and maintained without distinction of State Farm or vendor employee," he says. "We of course negotiate how much we pay the vendor; what the vendor does to get the work done is up to the vendor." According to the Goel suit, State Farm paid Patni "in excess of" $100,000 per worker.
State Farm has had layoffs as it has brought in Patni workers. Outplacement specialist Challenger, Gray & Christmas says the insurer has let go 10,000 workers nationwide since 1995, though Luedke says only one quarter of those were "involuntary severances." He says Patni employees have not replaced staffers and the insurer's own IT staff has risen from 5,500 in 1995 to 5,900 in 2007. Luedke says State Farm doesn't track how many outsourced workers it uses.
George Moraetes is a U.S. worker who believes he was affected by the H1-B program. A specialist in info tech security, he worked at State Farm from 2002 to 2004, when the company declined to extend his contract. Now in Chicago, he's unable to find a staff position in his specialty. "The whole industry is being outsourced and contracted," he says. "The American IT worker is a dying breed."
Moraetes has empathy, not anger, for employees such as Goel who come to the U.S. on H-1Bs. "The workers are living in squalor," he says. "I feel sorry for them."
The H-1B program could get an overhaul later this year. Senators Richard J. Durbin (D-Ill.) and Charles E. Grassley (R-Iowa) have proposed reforms because of what they consider widespread abuse. "There are simply too many loopholes that companies can use to get around the original intent of the H-1B visa," says Grassley in an e-mail.
As for Goel, he hasn't given up on his dream of living in the U.S. He's in California with another employer serving as his visa sponsor. His case is expected to go to trial later this year.
Business Exchange related topics:High Skill Work VisasGlobal OutsourcingEmployment Law
Before it's here, it's on the Bloomberg Terminal.
LEARN MORE