What Can Brown Do for Motorola?
The Razr maker's new CEO will have to take strong action to shore up sales and recapture market share
By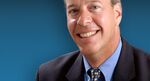 A dour first-quarter forecast combined with the prospect of a recession underscore the worsening fortunes for Motorola (MOT) and the massive challenges facing its recently appointed chief executive, Greg Brown. The biggest U.S. maker of mobile phones said Jan. 23 that fourth-quarter profit plunged 84%, to $100 million, as sales declined almost 19%, to $9.6 billion.