business
China and India: New Vision, Old Tensions
Indian Prime Minister Manmohan Singh's first official visit to China resulted in agreement on many issues. But mutual suspicion lingers
By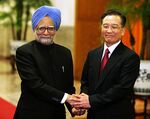 On Jan. 14, during his first official visit to Beijing, India Prime Minister Manmohan Singh sat down with Chinese Premier Wen Jiabao in the Great Hall of the People to emphasize what the two Asian giants have in common. The leaders signed a seven-page document that covers issues such as their fast-growing economic ties, defense cooperation, antiterrorism efforts, and climate and energy policies. Noting that India and China "are the two largest developing nations on earth representing more than one-third of humanity," the document goes on to note that the countries with a history of mutual suspicion are now "convinced that it is time to look to the future in building a relationship," and that "China-India friendship and common development will have a positive influence on the future of the international system."
"This vision expresses our common ground concerning major international and regional issues and will serve as important guidance for the growth of our relations," said Wen. Singh called it "an important milestone in the evolution of our relations. It reflects not only our common perceptions but also our desire to purposefully cooperate in the future."
But the upbeat talk masks continuing tensions between the two countries. A border dispute dating from 1962 when India and China fought a brief high-altitude Himalayan war in India's northeastern state of Arunachal Pradesh still bedevils the two countries. China's closeness to India arch-rival Pakistan is a major issue, too. "The major block for Indian cooperation with China is China's close relationship with the Pakistan army," says M.D. Nalapat, professor of geopolitics at Manipal University in New Delhi.
India's Growing Trade Deficit with China
Meanwhile, India's growing closeness to the U.S., including now stalled plans for India-U.S. nuclear cooperation, has China nervous. India has been expanding its political ties not only with the U.S., but also with Japan and Australia, causing more concern for the Chinese. "China is suspicious about these new alliances," says Yan Xuetong, director of the Institute of International Studies at Tsinghua University.
Economic ties are certainly on the mend. Trade between the two countries has reached $37 billion, double its size two years ago and some 33 times what it was in 1995. That growth convinced the two countries to sharply revise upward their goal for two-way trading volume. "We recognized that our strategic and cooperative partnership should be based on strong, diversified, and mutually beneficial economic ties," said Singh in Beijing. The two countries want to increase bilateral trade to $60 billion by the end of the decade.
The booming trade relationship is causing its own problems, though. In particular, India's growing trade deficit with China (which reached $10 billion last year) has become an increasing source of friction. Nervousness about China's investment into key Indian infrastructure and manufacturing has limited the relationship as well. "India has national security guidelines in place for screening FDI (foreign direct investment) proposals, and a number of proposed investments from China—for instance, by telecom companies Huawei Technologies and ZTE—have been blocked. An early proposal to single out China, Pakistan, and Bangladesh for security screening has been altered to avoid naming specific countries, but the broad thrust of policy is still suspicious of Chinese investments in ports, manufacturing, and telecom," wrote Seema Desai, an analyst at the London-based Eurasia Group, in a Jan. 14 report.
The Visit Itself Indicates Progress
Even ongoing discussions aimed at creating a free trade area (FTA) between the two countries is controversial, with Indian companies afraid of being swamped by Chinese goods. "China has been pushing for an FTA with India for some time, but this is highly opposed by Indian businesses who fear being flooded by cheap imports from China," Desai wrote. "India's exports are already suffering due to a rapidly appreciating rupee in 2007, and this issue is becoming politically sensitive for the government." Finally, despite the ambitious goals of the two leaders, Singh's visit has spawned few concrete measures to solve the continuing political and economic tensions.
Yet, the simple fact that the Indian premier is visiting shows real progress, points out Tsinghua University's Yan. "It was very difficult to get the Indian prime minister to visit China," he says, adding that it took two years and followed visits to India by Wen and Chinese President Hu Jintao. The current visit "shows India is seriously considering a stronger strategic relationship with China," Yan says. "Now the relationship is moving in a positive direction rather than a negative one." That's real progress for two countries that still harbor lingering mutual suspicion.
Roberts is BusinessWeek's China Bureau Chief and Asia News Editor
Before it's here, it's on the Bloomberg Terminal.
LEARN MORE