Unreal Architecture
Powerhouse Dallas architecture firm HKS is licensing a popular video game engine to wow potential clients
Matt Vella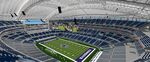 To boost profits and help sell its large-scale projects, architectural mega-firm HKS is turning to, of all things, video game technology. The Dallas group, whose clients include Whole Foods Market (WFMI), W Hotels (HOT), JCPenney (JCP), and the Ritz-Carlton, and whose projects in construction total $19.7 billion, announced in October, 2007, that it had licensed Unreal Engine 3, a powerful image processing tool that will help its architects produce detailed interactive environments of future projects.
Made by Raleigh (N.C.)-based Epic Games, Unreal Engine allows developers to cut down the time it takes to create complex graphics and game play. Over the past decade the technology has been used in the production of best sellers such as Gears of War and Mass Effect, churning out increasingly sophisticated polygonal images of all types, from futuristic space stations to hyper-realistic blood and guts. Applied to architectural models, it is helping HKS generate additional revenues of $65,000 to $150,000 per project.
The announcement comes as game technologies are making inroads into many industries (BusinessWeek.com, 12/21/07), and as the business of architectural visualization—the craft of creating preview images and animations of future buildings—undergoes a technological sea change. The artistic skill sets and software programs used to create hyper-detailed images for animated 3D films, next-generation video games, and now architecture, are bleeding together as clients expect more sophisticated visuals. According to Jeff Mottle, editor-in-chief of CGarchitect.com, a site dedicated to the subject, a number of other firms have already toyed with using gaming technology. But few game engines mock up structures that are large or sophisticated enough to make the effort worthwhile.
That's not the case at the high end of the market. There, says Mottle, "where it is really important to visualize many aspects of a complicated project on the fly, it could save time and cost by not having to create hundreds of sample images or animations." He adds that having access to this new technology "could give HKS a real competitive advantage."
Client POV
Adopting the new technology is also helping HKS address long-standing challenges. The firm had found that clients often have trouble translating two-dimensional images—let alone architectural plans—into accurate ideas of what a building or interior space might look like in reality. "The worst is when a client sees a finished building and says: 'That's not what I expected,'" says Pat Carmichael, the company's advanced technology manager and visualization guru.
Traditionally, projects were presented to clients in the form of a series of still images (which took hours to render) or as more sophisticated animations (which could cost hundreds of thousands of dollars to produce). So in 1997, Carmichael began experimenting with then-nascent gaming technology, converting HKS projects into a free, basic version of the Unreal video game engine, and transferring 3D building models from architectural drafting programs to the game's engine. Mashing up games technology with complex architectural models made for results wholly unlike the company's existing approaches.
For Carmichael, the potential was clear. For one, clients can control the point of view with a joystick or keyboard, walking in and around buildings and structures as they would a finished building. Instead of depicting one sample room in a multistory building, HKS's game-based models show any room or area—and clients can navigate around in real time.
And they weren't just showing empty rooms: Digital denizens moved through the lobbies toward working elevators and escalators. All of it is rendered or drawn with animations running at 30 frames per second, some 3,000 times faster than HKS's traditional, much costlier animation techniques. "Because the games engines are designed to run on consumer hardware," Carmichael adds, "we could even run presentations from a reasonably well-powered laptop instead of specialized computers."
A More Realistic Pitch
Take, for instance, the 2.3 million-square-foot Dallas Cowboys New Stadium. When completed in 2009, it will be the biggest such sports venue in the world, capable of housing the famed Cowboys football team as well as some 100,000 fans. To give the team's owners a realistic sense of their $1 billion investment—not to mention the opening and closing of the site's 660,800-square-foot convertible dome—HKS used Unreal Engine to create a fully explorable, reconfigurable 3D model of the site.
The chief operating officer of the Dallas Cowboys, Stephen Jones, says the detailed game-based visualization even allowed his organization to retool an area where large hanging billboards threatened to ruin the view from certain parts of the stands. "It actually helped us catch details that would have been problematic later on," says Jones enthusiastically.
The more the company showed clients these fully interactive environments, the more it became convinced all its projects could benefit from Unreal, so it decided to license the technology outright (for an undisclosed amount) this fall. That step signals a full-hearted embrace of the technology as a core creative tool for HKS, rather than simply a device for an occasional experiment. And the move gives the company access to Unreal Engine's source code, making it possible for HKS to integrate it with other architectural drafting software programs, thereby reducing the time it takes to create the designs. It also opens up a new potential revenue stream for HKS: sales of building-specific training programs such as emergency management tutorials for facilities personnel.
HKS is using game-based models to create a more personalized sales pitch for those interested in buying a $1 million condo at the W Dallas-Victory hotel and residences. Potential buyers take a full virtual tour of the new building, including the glass balcony of the Ghostbar on the 30th floor and surrounding city views from any apartment.
Uncertain Outcome
The visualization technology could even become a part of the design process rather than simply a way to display the finished product. "It would be a huge perspective shift if the use of gaming technologies begins changing the way HKS practices its architecture," says Steffen Walz, one of the editors of Space Time Play, a compilation of essays on the influence of architecture on games and vice versa. "It's one thing to use software to craft more beautiful images, but quite another to use it to create an interactive experience that could impact the final design of the space."
As the software used for architecture, film, and games continues to blend, a number of firms are experimenting, according to Ian Kinman, president of the New York Society of Renderers and founder of Animation + Images, an architectural imagery and multimedia company. Design software giant Autodesk (ADSK), for instance, owns high-end film effects software such as Maya along with the AutoCAD drafting program popular with architects (and others). But in the daily practice of most architectural firms, the crossover between such programs is still limited. "Architectural visualization is in a constant technological flux," says Kinman, "which is why it is exciting to see consumer gaming technology be so clearly adopted by one of the largest architecture firms in the U.S."
Certainly, Unreal-based architectural design isn't ready to displace other methods. Although the engine is capable of producing images on a par with traditional still rendering, it'll take designers years to accrue the artistic experience to make the most of the technology. And simple game-like interactivity without a narrative could even alienate clients. Kinman says it remains to be seen if games technology can really become a widely used architectural tool. "So far, there isn't a project HKS is working on that couldn't also be done in other ways," he adds.
But HKS's decision to use the Unreal Engine is significant. If off-the-shelf gaming technologies are to be accepted as core tools rather than experimental or occasional artistic flourishes, they will have to be adopted by a host of other massive, well-regarded firms. With its 68-year history and some $68 billion worth of architectural work under its belt, HKS could prove a strong motivator for other companies to follow its lead.
Before it's here, it's on the Bloomberg Terminal.
LEARN MORE