John Thain to Head Citi?
Citigroup has called an emergency board meeting for Nov. 4, giving rise to speculation that current CEO Chuck Prince is on his way out
Steve Rosenbush and Lauren Young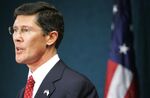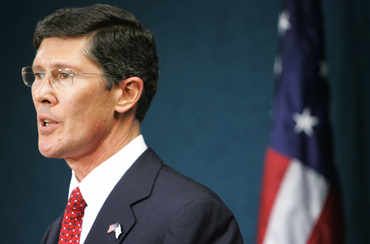 The board of directors at Citigroup (C) has called an emergency meeting for Nov. 4, according to one source close to the company, raising questions about the future of Charles Prince III, the financial giant's embattled chief executive. Prince has been under fire over Citi's financial performance in the midst of a brutal credit crunch, and the company's shares have tumbled, dropping nearly 7% on Nov. 1 (BusinessWeek.com, 11/1/07) and another 2% on Nov. 2, to a new 52-week low of 37.73.
Citi declined to comment on the news. But investors wasted no time in pushing up Citi's stock in after-hours trading on Nov. 2, in hopes that a new chief executive will turn around the company's flagging fortunes. "If Chuck Prince gets fired, it is like having a call option on this thing," says Charlie Smith, lead manager at the Ford Pitt Capital Total Return Fund, which owns Citi shares. "Prince has been spending money like crazy on acquisitions in the past three years, and he doesn't have much to show for it. The board has great cause here to kick him out."
Possible Successors
Who would replace Prince? The most frequently mentioned candidate is John Thain, chief executive at NYSE Euronext (NYX) and former president at Goldman Sachs (GS). He is seen as having the skills to stabilize Citi and also help it push into new growth areas to build the firm into something close to the profit machine that is Goldman. The NYSE declined to comment for this story.
Smith put in a vote for Citi's Gary Crittenden, who arrived from American Express (AXP) to become the firm's chief financial officer earlier this year. "I'm impressed with Gary," says Smith. "He would be a stabilizing force. He broke up Amex, he has the blueprint from that. I've heard him on the calls, he's a sharp guy."
Active in Exotic Investments
The Wall Street Journal first reported the news of Citi's emergency board meeting on its Web site. The Journal also reported that Prince plans to resign at a Citi board meeting on Sunday. The latest round of troubles at Citi stems from its involvement in an exotic financial entity called a structured investment vehicle (SIV). SIVs, which banks are allowed to keep off their balance sheets under accounting rules, use short-term commercial paper to buy securities with higher yields, such as collateralized debt obligations backed by subprime mortgages. Citi was one of the most active in using SIVs. But now with the credit crunch, SIVs can't issue commercial paper to raise money and face the prospects of selling their other securities at fire-sale prices.
Citi has been working with JPMorgan Chase (JPM) and Bank of America (BAC) to set up an $80 billion rescue fund. The idea is to establish a superfund SIV to clean up the mess created by the vehicles. But it's unclear at this point whether the effort will work as effectively as hoped (BusinessWeek.com, 10/18/07).
Any new chief executive at Citi would face his own cleanup. Some analysts have called for the company to cut its dividend or break up the firm to make it more manageable. At least one investor wants the company to return to its roots: "They should issue a recall on Sandy Weill" as chairman, says Mario Gabelli, the activist mutual fund manager, speaking of Citi's longtime chief executive and chairman. "Challenges like this require someone with gray hair."
Before it's here, it's on the Bloomberg Terminal.
LEARN MORE