Merrill Lynch's O'Neal Takes the Hit
The financial giant's CEO took full responsibility for the 94% revenue loss last quarter. Heavy exposure to subprime mortgages was a big problem
Steve Rosenbush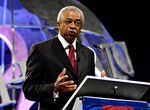 Merrill Lynch (MER) has sailed directly into the eye of a major financial storm, and the worst may still be ahead for the company and its chief executive Stanley O'Neal.
On Wednesday, Merrill took a writedown of $7.9 billion for the third quarter, by far the largest in its history, to cover losses related to subprime mortgages and risky corporate loans. It was substantially bigger than the $5 billion writedown that the company had warned investors to expect earlier this month. Overall for the quarter, Merrill said it lost $2.3 billion, or $2.85 a share—compared with a profit of $3.05 billion—or $3.17 a share, during the third quarter of 2006. After factoring in the losses, revenues for the quarter fell an astonishing 94% to $577 million.
The company's stock price fell 6%, to $63.34 in midday trading Wednesday. The shares are down about 30% from a 52-week high of $98 established in early January. Merrill's stock price has fallen farther than that of any major investment bank or brokerage. Citigroup (C) has taken major writedowns as well (BusinessWeek, 10/15/07).
Taking Personal Responsibility
O'Neal took personal responsibility for the losses in a conference call with investors Wednesday morning, a departure from the routine on Wall Street. Such calls are typically led by the company's chief financial officer, which in Merrill's case would be Jeff Edwards.
"The bottom line is we…I…got it wrong by being overexposed to subprime, and we suffered as a result of impaired liquidity…in that market. No one is more disappointed than I am in that result," O'Neal, 56, said. As the credit market revealed signs of trouble during the first quarter, Merrill sold off lower-rated assets and hedged the assets that it held onto, O'Neal said. "We hedged…but not aggressively or fast enough."
O'Neal's mea culpa wasn't enough to satisfy investors and analysts, who pressed him for answers about why the company had amassed such positions in the first place, and whether more writedowns would be taken in the future. "How did you end up with such huge positions and what went wrong? Your peers aren't taking writedowns for $8 billion," analyst Mike Mayo of Deutsche Bank (DB) said during the call, addressing his question directly to O'Neal. The CEO said "errors in judgment" were made.
Mayo also questioned whether Merrill has disclosed enough information even now. He was particularly concerned that the company didn't reveal the extent to which its remaining stake of $16 billion in mortgage-related securities has been written down. "The view of our firm…my view…is that disclosure is not sufficient to understand the remaining $16 billion," Mayo said.
Collateralized Debt Obligations
The Deutsche Bank analyst has emerged as one of the most forceful critics of Merrill's O'Neal. He crossed swords repeatedly with the chief executive during the conference call. Nevertheless, Mayo has a buy on Merrill's stock. He says Merrill's trouble spot accounts for only one-eighth of the total business, and that other parts of the franchise are growing well. Investment banking revenues were up 23% and wealth management revenues were up 29% for the quarter.
Merrill ran into trouble because it led the industry in exposure to investment pools known as collateralized debt obligations, or CDOs. They included heavy exposure to subprime mortgages. It sold some of its lower-rated assets during the year, but the value of the AA and AAA rated assets that it held onto was lower than their ratings would suggest, according to Merrill CFO Edwards. "The market was ahead of the ratings agencies," Edwards said.
Merrill announced a $5 billion writedown in early October as the market value of its CDOs fell (BusinessWeek, 10/18/07). The value continued to fall as ratings agencies lowered the boom throughout the month, leading to an additional $3 billion in writedowns. Mayo and other analysts questioned whether the other "shoe was going to drop."
Focusing on Worse News Ahead
O'Neal and Edwards said they could not promise that there won't be more writeoffs. The main fear is that ratings agencies will continue to lower ratings on CDOs and similar investments, forcing pension funds and other big investors to sell them. "We recognize there are potential elements that could challenge certain parts of the credit liquidity market," Edwards said. "We have tried to capture everything we can capture at this point. I cannot tell you where the market might [go] from here. As I sit here today, we are confident we have marked these positions conservatively," O'Neal said.
The irony is that Merrill's other businesses performed quite well. But analysts and investors didn't care. They were focused on the possibility that there may be even worse news ahead for Merrill and other banks.
"This disastrous level of writedowns must also reopen questions on whether other major banks have been entirely forthcoming in estimating their losses. We find it difficult to accept that Merrill stood out so far from the crowd," analyst Ho Su Lian of Daiwa Securities wrote. Far from being a kitchen sink quarter (BusinessWeek, 9/17/07), the last period may be the start of a long period of reckoning for Merrill and its peers caught in the credit market meltdown.
Before it's here, it's on the Bloomberg Terminal.
LEARN MORE