Ericsson's Surprise Nosedive
Sudden news of declining profits sent investors running for cover. Is it a sign of things to come for the telecom industry?
by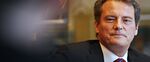 Was it bad luck, bad management, or a warning sign of deeper problems lurking in the $250 billion telecommunications equipment business? Investors didn't know the answer, so on Oct. 16 when mobile networks giant Ericsson (ERIC) warned of lower-than-expected third-quarter revenue growth and a sharp decline in profits, they took the path of least resistance and pressed the sell button. And pressed it again. And again.
By midday, Ericsson stock had plummeted more than 29%—the biggest intraday drop ever recorded for the century-old Swedish company—taking shares down to levels last seen in 2004. In a blink, some $17.5 billion in market capitalization had vaporized, though by the end of the day, prices had recovered somewhat to a loss of 23.8%. Ericsson's swoon also dragged down the Stockholm exchange, which closed off 3.1%, and other stocks and exchanges across Europe.
An Abrupt About-Face
Overblown market reaction or not, Ericsson's warning struck a nerve among investors scanning for signs of economic slowdown in the wake of the U.S. subprime loan crisis and its late-summer spread to global capital markets. The sudden reversal of fortune for the strongest player in telecom gear suggested that operators might be paring back capital spending because of slowing demand or the rising costs of financing.
Even if a broader slowdown isn't under way, investors were rattled by the rapid change of tone from Ericsson's executives. Just six weeks ago, the company met analysts in London and delivered a bullish forecast. "Confidence in management has been shattered," says analyst Richard Windsor with Nomura Securities in London. "They stood up two weeks before the end of the quarter and said that everything was okay. They should have known by then."
Ericsson had been scheduled to announce third-quarter earnings on Oct. 25, and analysts were expecting roughly 10% year-on-year revenue growth with steady operating margins of around 20%. Instead, less than 24 hours after final quarterly figures were compiled, the company held an emergency board meeting and then disclosed that sales would be up just 6%, to 43.5 billion Swedish kroner ($6.77 billion), short of the $7.07 billion forecast by the Street.
Poor Outlook on Future Margins
That doesn't sound so bad, but the real problem lay deeper in the numbers: Quarterly profits were down 36% from last year, to 4 billion Swedish kroner ($623 million), about 37% below consensus expectations. Worst of all, operating margins plunged from 21.2% last year to just 12.9% in the quarter, and Ericsson's fourth-quarter guidance suggested future margins in the "mid-teens," far below what analysts were banking on. The company also projects slightly lower-than-expected fourth-quarter revenue growth.
Ericsson blamed the shortfall on an unexpected decline in sales for its high-margin software and network-upgrade businesses. The company relies on these more profitable sales to offset lower margins in new network construction, especially in the developing world, where it has been discounting heavily to nab business away from rivals Alcatel-Lucent (ALU), Nokia Siemens Networks (NOK) (SI), and Nortel Networks (NT).
Specifically, the company says it was caught off guard by delays late in the quarter to two key upgrade contracts, one with AT&T (T) in the U.S. and the other with Hutchison 3G in Britain. In a hastily called Stockholm press conference, Ericsson Chief Executive Carl-Henric Svanberg said he didn't consider the contracts at risk, but he didn't elaborate on the reasons for the postponements.
A Risky Bid for Growth
Ericsson's vulnerability to the loss of two contracts in the quarter highlights the risky game it's playing with profits, analysts say. In a bid to win new accounts in the developing world away from competitors, Ericsson has been offering better terms than its weaker rivals can afford to match. The company readily admits to this land-grab strategy. "Ericsson's networks business continues to develop most rapidly in regions where new network rollouts and break-in contracts are predominant," it said in a statement. "This is where competition is intense, as it builds footprint for long-term profitable growth."
Analysts also understood the game—and generally applauded it as long as higher-margin upgrade sales and service contracts back in the developed world kept overall profits in balance. But the delay of the AT&T and Hutchison deals lays bare just how much lower margins really are for sales in the developing world. "Ericsson actually did quite well in sales there, better than expected," says analyst Steven Hartley with telecom consultancy Ovum in London. "That's why the revenue miss was so much less than the profit miss. But the margins in emerging markets are a hell of a lot slimmer."
Despite the Oct. 16 shock, some analysts remain relatively sanguine about Ericsson's prospects. Even at 12.1%, its margins are still better than those of its rivals, notes Nomura's Windsor. And the surge in lower-margin network installations—while it hurt Ericsson's profitability—is a sign of continued strong demand for mobile infrastructure around the world. Brokerage RBC Capital Markets (RY.TO) circulated revised forecasts on Oct. 16 showing Ericsson revenues growing 4.3% this year and 7% in 2008.
Still, Svanberg conceded Oct. 16 that Ericsson may now have to adjust its strategy. The company has managed to increase its market share in the past few years from 35% to 45%, he says, which has allowed it to reestablish "scale advantage" after years of devastating downsizing in the wake of the dot-com and telecom crashes. Now with its footprint established around the globe, Svanberg says Ericsson "will shift…focus slightly and capitalize on our market-share gains."
Rivals Get a Breather
That's a prettier picture than the prospects for Alcatel-Lucent, which issued its third profit warning this year (BusinessWeek.com, 9/28/07) on Sept. 28 as its wireless equipment business craters under assault from Ericsson. And though No. 2 player Nokia Siemens Networks is faring somewhat better, continued problems at the joint venture are raising questions about its future (BusinessWeek.com, 10/4/07) including the possibility that Siemens might pull out. Alcatel-Lucent shares fell 4.5% in Paris on Oct. 16, and Nokia was down 3.2% in Helsinki.
The biggest risk for Ericsson is that its new world of lower margins will persist into the foreseeable future—a possibility raised by some analysts on Oct. 16. Even if carriers in the developing world continue building out mobile networks to satisfy burgeoning demand, a slowdown in the developed world would wreak havoc on Ericsson's profits.
Ovum analyst Hartley says he imagined on Oct. 16 that beleaguered Alcatel-Lucent CEO Patricia Russo "might have a sly smile on her lips today." The sudden misfortunes of her fiercest rival take some of the pressure off Russo—and also validate her claim that Alcatel-Lucent's problems trace in part to sluggish orders from carriers in the U.S. and Europe.
But in the cutthroat world of telecom equipment, nobody has the luxury of schadenfreude for long. Ericsson's problems today will be shared by everybody in the industry tomorrow, and the only real question is how deep they go and how long they'll last.
Before it's here, it's on the Bloomberg Terminal.
LEARN MORE