Why Elekta May Be A Stockholm Standout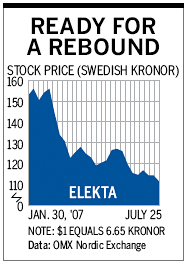 Sweden's Elekta, which trades only in Stockholm, is getting more attention from American investors. (Its Bloomberg symbol is EKTAB.) Some 30% of its stock is owned by U.S. institutions, including Fidelity Investments and Lazard (LAZ ). And nearly half of the global sales of Elekta's cancer radiation equipment are in the U.S. In that market Elekta is second only to Varian Medical Systems (VAR ) in Palo Alto, Calif. No. 3 is Siemens (SI ). Elekta's leading product, Leksell Gamma Knife Perfexion, described as a "revolutionary model" in Elekta's system for noninvasive brain surgery, is used in 120 neurosurgery programs in the U.S., says CEO Tomas Puusepp. He says this highly accurate tool for radiosurgery targets tumors, with little effect on surrounding healthy tissues. Ilan Chaitowitz of Redburn Partners says Elekta's competitive position remains strong, with orders from North America up 16%, after last year's 8% gain. Rating it a buy, he puts the stock's value at 170 kronor. Martin Sikorski of Crédit Agricole Cheuvreux, who rates Elekta outperform, says the stock is a timely buy as it has fallen from 153 kronor in January to 111 on July 25.
Note: Unless otherwise noted, neither the sources cited in Inside Wall Street nor their firms hold positions in the stocks under discussion. Similarly, they have no investment banking or other financial relationships with them.
By Gene G. Marcial
Before it's here, it's on the Bloomberg Terminal.
LEARN MORE