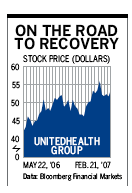 Warren Buffett stirred up investor excitement in UnitedHealth Group (UNH ) (UNH), the largest U.S. medical insurer, when his Berkshire Hathaway (BRKA ) reported buying 1 million shares of UNH in a Feb. 15 filing with the Securities & Exchange Commission. Back in 2006, UNH tumbled from 63 in January to 42 on May 24 because of an options-backdating scandal that culminated in the ouster of CEO William McGuire. Afterward, the stock inched up as pros took advantage of the drop, but Buffett's purchase alone boosted it from under 52 to 54. Even before Buffett's move, Sarat Sethi of investment firm Douglas C. Lane & Associates had bought in when shares slid into the 40s. "UNH is a strong franchise that is way undervalued," says Sethi, who puts its intrinsic value at more than 70. As either No.1 or 2 in its markets, UNH is the low-cost operator with the highest margins among its peers, notes Sethi. He expects UNH to resume its share-buyback program once the options inquiry closes. Melissa Mullikin of Piper Jaffray (it did banking for UNH), who rates it "outperform," says the company "continues to be a strong cash-flow generator." In 2006 it had $6.5 billion in adjusted operating cash flow, more than 1.5 times net income, she says. For 2007, Mulliken sees profits of $3.40 a share on revenues of $78 billion; for 2008, she expects $3.87 on $85.8 billion.
Note: Unless otherwise noted, neither the sources cited in Inside Wall Street nor their firms hold positions in the stocks under discussion. Similarly, they have no investment banking or other financial relationships with them.
By Gene G. Marcial
Before it's here, it's on the Bloomberg Terminal.
LEARN MORE