Solexa's Progress Is In The Genes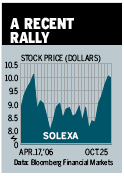 Something is new in human DNA sequencing: a technology that could speed up the process by 100 times and that slashes the costs way below those of the current state-of-the-art system. Solexa (SLXA ) (SLXA) has developed its own genome analysis system for gene resequencing, expression profiling, and small RNA discovery and analysis. The new technology makes Solexa a "leading contender in the next-generation sequencing race," says Un Kwon, a life sciences analyst at Pacific Growth Equities. She rates the stock, which has climbed from 8 in September to 9.91 on Oct. 25, a "buy." Solexa's system is "technically sound and convincing," she says. It's scheduled to be launched by yearend, and orders have come from labs and genome centers, says CEO John West in a recent letter to shareholders. The system has the potential to yield more than one gigabase, or 1 billion bases, of DNA sequence data per run, at a cost of $3,000 to $5,000, says Kwon, vs. 20 million to 30 million bases per run at $10,000 or more. John Sullivan of Leerink Swann, which has done banking for Solexa, puts the market for Solexa's analysis system at about $800 million. He rates Solexa "outperform," with a 12-month target of 13 to 15.
Note: Unless otherwise noted, neither the sources cited in Inside Wall Street nor their firms hold positions in the stocks under discussion. Similarly, they have no investment banking or other financial relationships with them.
By Gene G. Marcial
Before it's here, it's on the Bloomberg Terminal.
LEARN MORE