Construction Workers: Dreading A Teardown In Jobs
Construction payrolls once again posted a strong gain, producing 41,000 new jobs in February. But now that the housing market has peaked, construction jobs won't be as plentiful heading into the summer building season. And the impact will not be felt equally across the country.
Over the past year the booming housing market translated into big gains in construction payrolls. Building jobs accounted for over 17% of all new jobs in the U.S. despite accounting for only 5.4% of total payroll. But the National Association of Realtors' March housing forecast projects a 7.7% fall in new home sales this year. Economists also expect February home sales to run below the previous-year pace for the first time in 18 months.
The states where housing has been especially frothy are vulnerable to a nasty one-two punch. Not only do lofty levels make these markets more vulnerable to falling prices when housing cools, but the impact on labor could be significant.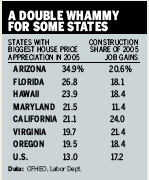 Construction hiring as a share of total job growth, however, varies among the states with the hottest housing markets. The biggest gains in building jobs over the 12 months through January were concentrated in the West, with increases in California, Idaho, Montana, and Nevada all above 22%. Other states that could feel the pinch of fewer jobs in the sector include New Hampshire, Massachusetts, and Missouri, which saw hiring exceed 24% despite 2005 home price gains that were below the 13% national average reported by the Office of Federal Housing Enterprise Oversight.
Any decline in construction jobs also will be troublesome because the industry provides well-paying jobs to workers who don't have a college education. February average weekly earnings for construction workers stood at $744, vs. $553 for all nonfarm workers. The industry's growth of hourly wages also has outpaced the economy at large -- 4.8% from last February, vs. 3.6%.
Once housing slows, it will be difficult for many construction workers to find the same amount of work at similar wages. That will only compound the pain of a softer housing market for several states.
By James Mehring in New York
Before it's here, it's on the Bloomberg Terminal.
LEARN MORE