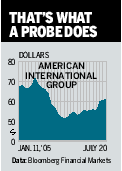 Seasoned large-cap value investor Saul Eisenberg loves a real bargain, especially those that the Street has cast aside -- such as American International Group (AIG ), which New York Attorney General Eliot Spitzer and the Securities & Exchange Commission are investigating for accounting fraud. Since the massive probe began in February, shares of the giant global insurer have plunged -- from 73 on Feb. 11 to 50 by Apr. 22.
Eisenberg, of M&R Capital Management, started buying in March, when AIG was at 56. Although most investors still view it as fraught with risks, Eisenberg sees AIG as a steal. "Crunching the numbers to get the probe's worst-case impact, we saw that AIG was way oversold," he says. He sees the stock, now at 60, hitting 75 in a year. Prior to AIG's five-year restatement of its financial results, the Street had expected the company to earn $5.24 a share in 2005. Recently, William Wilt of Morgan Stanley (MWD ) (which did banking for AIG) upped his 2005 forecast to $5 a share from $4.80, and his 2006 forecast to $5.40 from $5.35. He says it is increasingly likely that AIG will recapture business momentum. Bijan Moazami of investment firm Friedman, Billings, Ramsey Group (FBR ) says the foreign life/retirement services unit -- 29% of AIG's total revenues -- will be a key driver in its overall growth. Overseas operations are growing fast, particularly in Japan, India, and China.
Note: Unless otherwise noted, neither the sources cited in Inside Wall Street nor their firms hold positions in the stocks under discussion. Similarly, they have no investment banking or other financial relationships with them.
By Gene G. Marcial
Before it's here, it's on the Bloomberg Terminal.
LEARN MORE