Tomorrow, World Domination
GOOGLE, INC. GOOG, $287.84-OTC, STRONG BUY
BACKGROUND.
We are fully cognizant that we declined to recommend Google (GOOG ) at last August's $85-per-share initial public offering. We learn from our errant ways, however, one being petty thinking, which now afflicts equity analysts in the Internet space. Despite Google's 59.5% leap since March, to $287.84, 6 of 30 Google analysts still do not rate it a buy. Some are raising price targets, albeit timidly -- for example, to $360. This would deliver buyers today gains of a mere 25%. Chastened by our own profitless risk aversion, we issue this modest proposal: a target price of $3,600 a share.
INVESTMENT THESIS.
Google's stated mission -- "to organize the world's information and make it universally accessible and useful" -- is nearly met. Recently, Google began service in Romansh, a language employed by 35,000 Swiss. We pose the question: If Google grew in June by adding Romansh, how will it grow in July -- by addressing Antarctica's penguin population? We suspect not. Instead, once Google corners the last bit of global information, it will turn to organizing users of information -- i.e., humanity -- making us universally accessible and useful.
THE EARTH MOVES THREE TIMES.
We sense a trio of seismic shocks, each driving monetization of Google's potential within the online media ecosystem. Firstly, global broadband. On June 1, SBC Communications (SBC ) slashed broadband rates to $14.95 monthly. Tremors from this move eventually will be felt as far away as China. There, cut-rate broadband holds high potential for Google, which collects a minimum 5 cents per click-through. We do not apply U.S. penetration rates -- 70% of Americans online, half via broadband -- to China's 1.3 billion. Conservatively, we imagine that Beijing's censors alone will drive traffic logarithmically higher through their due diligence checks of today's top online advertisers -- Tickle (MNST ), Vonage, southbeachdiet.com -- plus sites soon to register under the .XXX top-level domain.
Secondly, California Googling. In calling a Nov. 8 special election, Governor Arnold Schwarzenegger declared: "Our broken state government will be modernized and revitalized, and the people will be heard." When this inevitably fails, the Golden State will have little choice but to outsource the executive function, in all probability to Silicon Valley's hottest company. State collections (e.g., sales taxes, library fines) could flow through Google servers, each generating a micropayment. Purchases made through Google's shopping site, Froogle, could cut Sacramento's $109 billion in annual outlays. This opportunity has legs: A natural-born citizen, Google turns 35 in 2033 and then could run for President.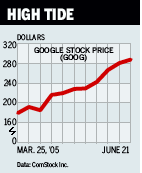 Thirdly, wireless bionics (WB). With the convergence of wireless -- we note the CEO of Intel (INTC ), a WiMAX champion, is a Google director -- and bioengineering, implantable devices could connect Google to hearts and minds. Stomachs, too. Dieters who now record daily caloric/carb intakes on handhelds or even notepads could have meals assessed and data uploaded via Google's WB. Ditto heart rates while exercising, and even the blues: Remote monitoring of depressives could generate just-in-time antidepressant refills. Memory-loss sufferers also stand to find relief. For example, anyone bumping into a former colleague but failing to recall her name could intone: "Google Local." The site then would send instantly to a cochlear implant her name, phone number, and last three Web searches.
VALUATION.
We propose an equity capitalization of $1 trillion, a nearly rational valuation given comparables and current bottlenecks in Thorazine supplies. With 277,776,830 common shares outstanding, this implies a per-share price of $3,600.01. We await further inputs/updates to our model at Google's Q2 earnings conference call, July 21, 1:30 p.m. PDT.
Analyst Certification
I, Robert Barker, author of this report, hereby certify views expressed herein accurately reflect my personal views, among them that Wall Street stock reports have improved immeasurably since the Securities & Exchange Commission et al.'s Global Research Analyst Settlement and that target prices for Google are as valuable as Lotto numbers in fortune cookies, except, of course, they come without cookies.
Important Disclosures
Copyright 2005 The Barker Portfolio Inc. (TBPI). All rights reserved. TBPI has, or has had in the past year, the following companies as clients: none. TBPI and/or its affiliates make no market in securities of Google Inc., nor hold positions, long or short, in said securities and so would neither hype nor slight an enterprise so critical to the good of the world and the swift advance of trade.
Before it's here, it's on the Bloomberg Terminal.
LEARN MORE