Iron Mountain's Immovable Shares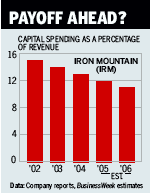 How bulletproof is your business? What if you totally blew a job for a major customer? What if your screwup was played out all over the papers and on TV? What if you could only explain it with "human error -- it happens" or somesuch? Would you lose the customer? Would you lose others?
In May a Boston company called Iron Mountain endured just such embarrassment. This leader in the storage and management of corporate records lost 40 backup data tapes entrusted to it by Time Warner (TWX ). The unencrypted tapes hold the names, Social Security numbers, and other personal information of some 600,000 past and present Time Warner employees. Oops. The tapes still have not turned up, and the U.S. Secret Service told me it continues to investigate. Uncomfortable as Iron Mountain may be in the spotlight, its shareholders barely suffered: The stock fell just 1% or so on the news. Although the lost tapes have not yet led to any evidence of identity theft or other misuse, rising public concern over invasions of privacy -- and the potential for legal liability to Iron Mountain -- make the stock market's muted response all the more surprising.
I've been watching Iron Mountain (IRM ) since late 2002, when Warren Buffett's Berkshire Hathaway (BRKA ) first reported a sizable stake. At last report, Berkshire held 5 million shares, 3.8% of the company. This has puzzled me, since back in 2002 the stock traded at 44 times that year's earnings. Today it trades at 40 times this year's earnings. Now, though, how I view that seemingly rich multiple is changing. The Time Warner case, plus Berkshire's recent deal to buy a big utility, PacifiCorp, are bringing Iron Mountain's value into focus.
Iron Mountain, it's becoming clear, may be best seen as a young mega-utility. It doesn't sell water or power but something just as vital to companies: the assurance that all records are either saved or shredded in a way that avoids legal trouble. There are hundreds, if not thousands, of companies around the world that perform such scut work. None is nearly so large as Iron Mountain, which spent the past decade consolidating the industry and expanding its network of storage assets. In 1995, the year before it went public, Iron Mountain posted revenue of $104 million. After spending $2.9 billion on almost 150 acquisitions, the company sees revenue this year of $2 billion or so from some 235,000 accounts in 148 global markets. Its nearest rival in sales, Recall, based in Norcross, Ga., gets about one-fourth that amount.
Much as an electric utility might suffer early on as it spends to build power plants and transmission lines, Iron Mountain has seen its earnings penalized by all of its investments. But that era is cresting. As a percentage of revenue, capital spending already has begun to trend down. Free cash flow -- that is, cash generated from operations minus capital expenditures and acquisition costs -- is turning positive. A company spokesman told me that while a dividend is not a near-term prospect, reducing debt and buying back stock are more likely.
Now near $29, the stock goes for 30 times next year's estimated earnings of 98 cents a share. That's expensive for an average business, yes. But having a large, stable, and growing base of revenues is worth a premium. For its bread-and-butter jobs warehousing boxes of paper records, Iron Mountain gets almost $3 a year per box. Increased demand for shelf space from current customers is running 3% to 4% a year. New accounts plus new services, such as digital archiving of e-mails for Wall Street brokers, add to basic revenue growth, as might price hikes one day. Overall, Iron Mountain's revenues can reasonably be expected to grow 8% a year.
How bulletproof is Iron Mountain? It expects no legal impact from the Time Warner case. As for Time Warner, after reviewing its options, it's sticking with Iron Mountain.
Before it's here, it's on the Bloomberg Terminal.
LEARN MORE