U.S. consumers have shown repeatedly in recent years their ability to cope with any number of obstacles standing between them and the retail object of their affection. And in 2005 their urge to splurge will face more tests amid some new challenges, including rising inflation, record gasoline prices, and higher interest rates. All that comes on top of some old burdens, such as heavy debt and a low savings rate.
The question: Can consumers handle it all and keep spending at a pace that will keep the economy moving forward at a healthy clip? After all, with gasoline prices already averaging $2.40 per gallon in parts of the West Coast, many SUV owners may soon be forking over more than $50 to fill up their 20-gallon tanks.
Even for those who don't own gas guzzlers, higher gas prices will take a bite out of household buying power this spring. Those depressing thoughts were undoubtedly a factor in the recent drop in consumer confidence. Also, as mortgage rates rise, housing demand and housing-related purchases will ease back a notch as the housing boom winds down.
Nevertheless, a leveling off in housing is not inconsistent with a healthy growth rate in consumer spending, primarily because of the excellent overall financial condition of consumers. Debt service as a share of income is down from its peak. The rush to refinance at a lower fixed rate has cut mortgage payments for many families and has provided some income protection against rising rates for those who have switched from adjustable-rate to fixed-rate loans. Delinquency rates on a variety of loans are falling. And the overall balance sheet of the household sector is the strongest ever.
Most important, the turn for the better in the job market over the past year has supplied the household sector with a growth surge in income from wages and salaries. That's a crucial support under spending that had been missing during the jobless part of the recovery.
After growing 3.8% and 3.7%, respectively, during 2003 and 2004, consumer spending still has the power to grow at a slower but quite respectable 3% clip this year. That's a pace that will keep the economy humming, especially since spending by businesses on new equipment, buildings, and inventories shows every sign of taking a larger role in powering overall demand.
IT'S A SIGN OF CONSUMERS' continued resilience that March consumer confidence held up so well. The Conference Board's index fell to 102.4, from 104.4 in February. But despite last month's soaring gas prices and its weak stock market, the reading remained well above the 98.2 average in the second half of last year. Households rated present economic conditions only a shade lower than they did in February, which was a sharp improvement from several months ago. Their expectations for the future fell as well, but to a level that historically is associated with spending growth at a rate of about 3%.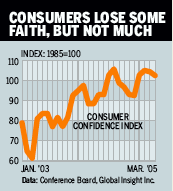 Given the relentless rise in gasoline prices, confidence will undoubtedly take another hit in April. The national average for unleaded regular hit $2.15 on Mar. 28, up 20% in only three months, and it will go higher. Based on the historical relationship between the prices of crude oil and gasoline, oil in the range of $53 to $54 a barrel has typically been associated with gas prices averaging around $2.21 to $2.24. However, the summer driving season is still a ways off, and the seasonal pattern of gas prices shows them peaking usually in May.
A 20% rise in gas prices from the first quarter could knock as much as two percentage points off the second quarter's annual rate of growth in consumer spending, as households divert more of their income to gas and less to discretionary purchases. Still, having been faced with $2 gas last spring and then again last fall, consumers have had time to adjust their budgets, and they may now be inured to high pump prices.
THE INCREASED ABILITY of households to manage the various pressures of recent years boils down to their improved financial condition. In recent years, rising net worth has trumped the traditional arguments that heavy debts and a low savings rate will spell trouble for consumers. That's because households are discovering new vehicles for saving, and they are better able to handle a higher volume of debt. For example, since the recession ended three years ago, household liabilities have soared by $2.7 trillion. That compares with a rise in aftertax income of only $1.4 trillion.
However, over the same period household assets, including everything from home values to stocks and bonds to pension funds, have grown by $10 trillion, and assets other than home values have accounted for 53% of that rise. In the 2 1/2 years after the stock market bust in 2000, households lost $4.9 trillion in net worth. But since that drop bottomed out in the third quarter of 2002, households have seen all of those losses restored and then some. Overall wealth now stands $5 trillion higher than it did at the 2000 peak.
IN THE END, THOUGH, it all comes down to household cash flow and the month-to-month ability to handle higher debt. So far, consumers have managed well. The Federal Reserve's financial obligations ratio, a measure of payments for mortgages and other loans and leases as a percentage of aftertax income, dipped to 15.96% in the fourth quarter, down from 16.03% in the third quarter and from 16.21% two years ago.
But that total masks diverging trends between servicing mortgages and all other obligations. For mortgage debt, the ratio has risen from 9.56% of income when the recovery began three years ago to 10.12% in the fourth quarter. The ratio of income required for all other debt has dropped from 6.62% to 5.83%, a nine-year low. As many households have reduced the monthly drain from revolving debt, bank loans, and car leases, they have been able to make more room for higher mortgage payments, a shift that also makes sense from a tax standpoint.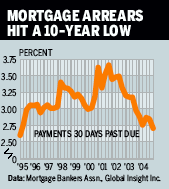 Moreover, the delinquency rates for various types of consumer loans have been falling. Late payments on auto loans, auto leases, and personal loans have declined sharply over the past three years. Delinquencies on revolving credit have also dropped to a low level, and even late payments on bank cards, which have the highest ratio in this group, have edged down over the past year. Finally, the percentage of mortgages that are 30 days past due is at its lowest level in 10 years, according to the Mortgage Bankers Assn.
Perhaps the most compelling plus in the consumer outlook is the new aggressiveness that Corporate America is showing in its plans to expand operations -- a key factor in the recent pickup in hiring. Those jobs have translated into 6% growth in the wages and salaries of working households over the past year, the fastest pace in more than four years. With those kinds of income gains, consumers will be in excellent shape to face the financial challenges that 2005 will bring.
By James C. Cooper & Kathleen Madigan
Before it's here, it's on the Bloomberg Terminal.
LEARN MORE