Plastic Fantastic
The material girl at lightblocks
The color of money on Canal Street in Nashua, N.H., is tangerine one day and magenta the next. It's there, in a 20,000-square-foot converted luggage factory, that artist Mary Boone Wellington has built a highly profitable business from one of her creations: sturdy sheets of tinted plastic used in retail displays, chi-chi restaurant ceilings, and avant-garde corporate boardrooms.
Wellington makes the translucent material, called LightBlocks, using a patented technique that treats and colors sheets of acrylic or polycarbonate to form a pliable plastic that is nearly impossible to scratch and, when backlit, seems to glow. "When a designer holds a piece in their hand, they often get a dreamy look as though it's catalyzing some inspiration," says Wellington. "It just seems to spark off a lot of new concepts."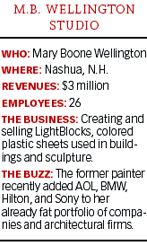 Sales are pretty bright, too. Six-year-old M.B. Wellington Studio had revenues of $3 million in 2004, up from about $1.5 million the previous year. Wellington's portfolio includes IBM's eBusiness offices, Discovery Channel stores, and Los Angeles' Beverly Center shopping mall. She has just signed contracts with Hilton, Sony, AOL, and BMW.
The 55-year-old Wellington, who once studied under Siddha yoga teacher Swami Muktananda, peppers talk about polymers with her spiritual philosophies. But she shatters the stereotype that artists don't make good businesspeople. In the 1990s she sold about 1,100 of her oil paintings in four years. "I had 25 dealers selling my art," recalls Wellington. "The perception is that artists are flaky. But I would get things done, so I would get the commissions."
It was a commission that led her to LightBlocks. In 1998 the city of Flagstaff, Ariz., hired Wellington to build a 75-by-45-foot solar calendar along Route 66, consisting of 12 colored towers that would glow at dusk. She couldn't find the right material, as existing plastics came in limited colors and easily faded and scratched. Wellington had no formal science training, but she began researching polymers, touring plastics factories, and thumbing through textbooks. After plenty of trial and error, and $14,000 of her own money on top of the $50,000 commission, Wellington hit upon a process to give plastic the quality she wanted. She patented it in May, 2003.
Right away, she knew LightBlocks were different. "I'd been selling stuff for a long time, but no one raved about things they way they did about LightBlocks," she says. Wellington sent product samples to 100 top architectural firms. The result was a 33% order rate. "That was phenomenal. I had heard that a 2% response rate was good," she says.
One of those orders came from fellow Philadelphia University of the Arts alum Ron Pompei, whose New York firm Pompei AD used LightBlocks in the design of Discovery Channel's flagship store in Washington, D.C. "One of the most subtle things about LightBlocks is the way light goes through it," says Pompei. "She has applied an artistic process to something you'd use in an automated or industrial setting. It's not arts and crafts, and it's not industrial. It holds a great middle ground."
In 2000, IBM wanted LightBlocks for offices in three cities -- in two months. Wellington hustled to expand her six-person staff by hiring 10 temps and moved from her tiny studio to her current space. Since that success, dozens of corporate offices -- and the future of Wellington's studio -- have been looking a lot brighter.
By Kevin Ferguson
Before it's here, it's on the Bloomberg Terminal.
LEARN MORE