Suppress Your Appetite For Herbalife
Always a curious company, Herbalife just gets curiouser. The direct-sales marketer of dietary supplements grew like crazy from its founding in 1980 by high school dropout Mark Hughes. Today its Web site still features paeans to Hughes, plus a gallery of his photos. Yet it avoids mentioning the fact that he is long dead.
Strange, unless you sell such items as Relax Now, a jujube, ashwagandha, and passion flower combo that Herbalife says eases anxiety and stress. Especially strange since Hughes died at 44 in May, 2000, after a four-day alcoholic binge. The coroner found the booze didn't mix well with Doxepin, a prescription antidepressant Hughes had been taking. Nor did Hughes' death fit with the healthful image he nurtured as Herbalife's salesman-in-chief. When I asked why Herbalife's site features Hughes yet makes no mention of his passing, a spokeswoman told me the company is staying quiet while regulators review its plan for an initial public offering of stock. Its prospectus does note Hughes' death, but skips over how he died.
That alone is reason enough for investors to do their own skipping -- right past this deal. But if you're among the morbidly curious, you might want to examine it more closely. Led by Merrill Lynch (MER ) and Morgan Stanley (MDW ), the IPO is estimated to come at $15.50 a share, raising some $225 million. In a flurry of transfers, most of that will go to Herbalife's owners, a pair of private-equity funds, Whitney & Co. and Golden Gate Capital. Some will repay part of what the company borrowed when Whitney and Golden Gate took it private in July, 2002. None will go to the benefit of investors, who stand to get 22% of Herbalife at the IPO.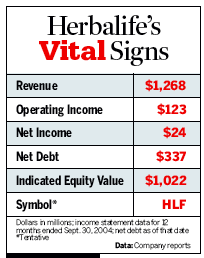 How is Herbalife doing under its new owners? In some ways, better. Sales in 2002 were $1.1 billion. In the last four quarters, they reached nearly $1.3 billion. Net income, however, has only edged up, to $24 million in the past year from $23 million in 2002. Despite rebrandings and new formulations for some diet supplements -- the company eliminated appetite-suppressant ephedra in 2002 and cut back on another, citrus aurantium, this year -- Herbalife also depends more than ever on its mainstay, Formula 1 Nutritional Shake Mix. In 2004's first nine months, Formula 1 delivered 23% of sales, up from 21% in 2002.
To push its products, Herbalife counts on an army of some one million independent distributors in 59 countries. These are the people that Hughes, with a rags-to-riches story of launching Herbalife from his car's trunk, proved so talented at firing up. But it's hardly steadily remunerative work, as the churn in Herbalife's ranks attests. At the last annual count, nearly 100% of distributors below the level of supervisor had turned over, as did 71% of the 191,000 supervisors.
So recruitment and inspiration remain vital to Herbalife. That's now the job of CEO Michael Johnson, who comes to it with a background different from Hughes's. After 17 years at Walt Disney (DIS ), Johnson joined Herbalife in April, 2003, with a grant of nearly 3 million stock options. In his first year, his salary and bonus totaled $2.2 million. Is that a big nut for a $1.3 billion company? Yes. At Avon (AVP ) (2003 sales, $6.8 billion), CEO Andrea Jung last year received $2.5 million in salary and bonus, or 0.2% of operating income. Johnson's annual take came to more than 2% of Herbalife's 2003 operating income.
Herbalife is daring to go public at an equity value of more than $1 billion. That, plus its debt, would give the company a total buyout value near $1.3 billion, or one times 2004 sales. In 2002, Whitney and Golden Gate paid $652 million, or 0.6 times sales. I wonder what investors would pay if Herbalife's prospectus came with a copy of Hughes's autopsy report (Los Angeles County Coroner, Case No. 2000-03682).
Before it's here, it's on the Bloomberg Terminal.
LEARN MORE