Lewis S. Ranieri: Your Mortgage Was His Bond
The bond trader turned home loans into tradable securities
As part of its anniversary celebration, BusinessWeek is presenting a series of weekly profiles of the greatest innovators of the past 75 years. Some made their mark in science or technology; others in management, finance, marketing, or government. For profiles of all the innovators we've published so far, and more, go to www.businessweek.com/innovators/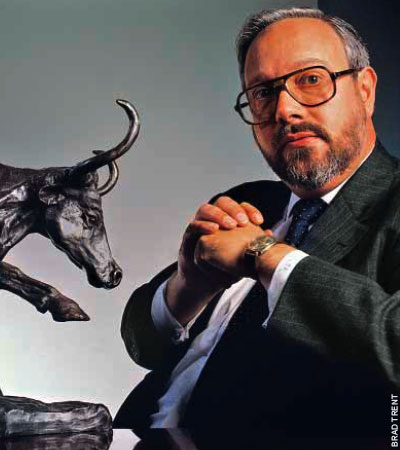 The past quarter-century has seen a revolution in finance. It's felt every time a homeowner refinances a mortgage or signs up for a credit card. No one person can claim to have lit the fuse for this revolution -- but Lewis S. Ranieri was holding the match. Joining Salomon Brothers' new mortgage-trading desk in the late 1970s, the college dropout became the father of "securitization," a word he coined for converting home loans into bonds that could be sold anywhere in the world. What Ranieri calls "the alchemy" lifted financial constraints on the American dream, created a template for cutting costs on everything from credit cards to Third World debt -- and launched a multibillion-dollar industry.
Salomon and Bank of America Corp. (BAC ) developed the first private mortgage-backed securities (MBS) -- bonds that pooled thousands of mortgages and passed homeowners' payments through to investors -- in 1977. Not a moment too soon: Skyrocketing interest rates were turning the business of savings and loans -- funding long-term mortgages with short-term deposits -- making it a financial death trap for banks just as the housing demands of maturing baby boomers began to surge.
Ranieri's job was to sell those bonds -- at a time when only 15 states recognized MBS as legal investments. With a trader's nerve and a salesman's persuasiveness, he did much more, creating the market to trade MBS and winning Washington lobbying battles to remove legal and tax barriers.
A less likely financial engineer would be hard to imagine. Ranieri, a Brooklyn native, set out to be an Italian chef until asthma ruled out work in smoky kitchens. A part-time job in Salomon's mail room set him on the path to trading. A large, volatile man, Ranieri built the firm's mortgage desk in his own image: "fat guys," as author Michael Lewis described them in Liar's Poker, promoted from the back office, who indulged in feeding frenzies and practical jokes while selling strange new bonds to doubtful investors.
But Ranieri also recognized that "mortgages are math." He hired PhDs who developed the "collateralized mortgage obligation," which turns pools of 30-year mortgages into collections of 2-, 5-, and 10-year bonds that could appeal to a wide range of investors. The homeowner in Albuquerque could now tap funds from New York, Chicago, or Tokyo, a change that Ranieri figures cuts mortgage rates by two percentage points. Soon everything from credit-card balances to auto loans was being repackaged.
As MBS trading exploded in the '80s, Salomon dominated the market. After becoming vice-chairman, Ranieri was seen as "too big" in the trade by his bosses and was forced out in 1987. Now he is non-executive chairman of Computer Associates International Inc. (CA ) and runs his own investment firm. And the market he created has funneled trillions into the American dream of homeownership.
By Mike McNamee
Before it's here, it's on the Bloomberg Terminal.
LEARN MORE