Ray Kroc: The Creator Of McWorld
He saw how McDonald's could flourish in America's emerging car culture
As part of its anniversary celebration, BusinessWeek is presenting a series of weekly profiles of the greatest innovators of the past 75 years. Some made their mark in science or technology; others in management, finance, marketing, or government. In late September, 2004, BusinessWeek will publish a special commemorative issue on Innovation.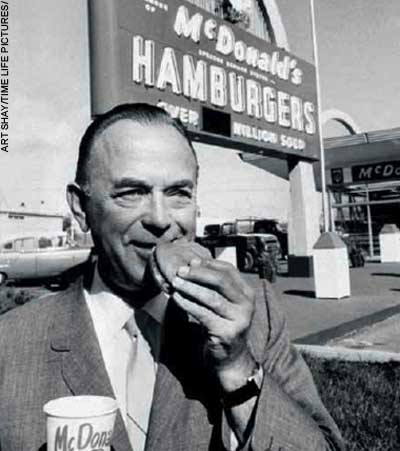 In 1954, a milk-shake-mixer salesman from Chicago took the red-eye to Southern California to call on two brothers whose little hamburger joint had become his best customer and the last hope for his faltering business. Raymond A. Kroc knew his five-and-dime and corner-drugstore customers were dying; what he couldn't figure out was why this upstart was ordering so many machines. Before he returned home, Kroc had a deal that not only would give his distributorship a new lease on life but would also change the American landscape and, for better or worse, diets in much of the world. Kroc, 52, became the national franchising agent for McDonald's.
Within a year, Kroc would open his first outlet in suburban Chicago, a red-and-white tiled box in Des Plaines, Ill., with a neon-yellow arch on either side and a simple menu of french fries, soft drinks, milk shakes (made in blenders sold exclusively by Kroc), and a 15 cents hamburger. By 1965 -- 10 years after McDonald's Corp. (MCD ) was incorporated and four years after Kroc bought out the founding brothers -- McDonald's would boast more than 700 sites. America was well on its way to becoming a fast-food nation. Kroc didn't stop there. He and his successors invaded one country after another, introducing McCapitalism to Russia in 1990 and to China two years later. By 2003, McDonald's had 31,100 outlets in 119 countries, fed 47 million people every day, and had sales of $17.1 billion.
Kroc did not invent the chain restaurant. And by the time brothers Richard and Maurice McDonald opened their prototype grill in San Bernardino, Calif., in 1948, Southern California was hopping with drive-ins. But it was Kroc -- a high school dropout who once played piano in bordellos and speakeasies -- who figured out how to turn burgers and fries into a mass-market empire. As postwar America moved to the suburbs, he foresaw the emergence of the car culture. He insisted on standardization and spic-and-span stores, which meant a lot to an increasingly mobile population in search of something trustworthy wherever they went. He fought to make McDonald's affordable -- the price of its basic burger didn't rise till 1967 -- allowing even low-wage earners a chance to take the family out for dinner. Kroc brought his mass-production techniques to personnel, too. Jobs were simplified so that despite almost constant turnover among teenage crews, stores met Kroc's quick-serve standards.
Just as important was a franchisee-friendly structure. Partly this grew out of necessity: The cash-strapped entrepreneur had to rely on others to expand his reach. But Kroc also wagered he'd come out ahead by taking a 1.9% commission on franchisees' sales over 20 years rather than hitting them with huge up-front fees.
Today, of course, McDonald's gets blamed for all sorts of ills: obesity, poorly paying McJobs, factory farms, a global dumbing-down of food, American hegemony. Kroc, who died in 1984, left a fortune that his third wife, Joan, passed on to the Salvation Army and National Public Radio. He never tired of seeing another pair of Golden Arches go up, and he never felt the need to apologize for it, either. "We provide food that customers love, day after day after day. People just want more of it," Kroc said. As every salesman knows, you can't go wrong giving people what they want.
By Michael Arndt
Before it's here, it's on the Bloomberg Terminal.
LEARN MORE