Cybersource: Just Right For First Data?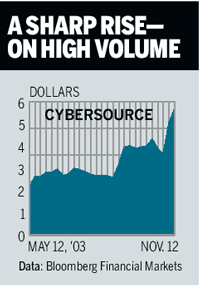 With online transactions ramping up, demand for small-cap CyberSource (CYBS ) services, such as securing electronic payments or averting credit-card fraud, is ratcheting higher. So is CyberSource stock -- from 2.05 in May to 5.75 on Nov. 12. The solid third-quarter results and higher year-over-year revenues for the first time in two years, "justify the big advance," says Jonathan Cohen of JHC Capital Management. But the sharply higher volume on the stock's surge suggests something else to Cohen, who owns shares. Whispers are, he notes, that CyberSource could be a target of First Data (FDC ), a global provider of electronic commerce services to 3 million merchant stores and 1,400 credit-card issuers. In August, First Data and CyberSource signed a "strategic partnership" to provide customers with their combined services. CyberSource's 3,000 customers include Wal-Mart Stores (WMT ), 3M (MMM ), Home Depot (HD ), and Nike (NKE ). First Data, with sales of $7.6 billion and a market cap of $27 billion, is a giant, especially when compared with CyberSource, whose sales in 2002 were $28 million, with a market cap of $190.5 million. Cohen figures CyberSource is worth 9 to 10 in a buyout. It has yet to make money, but he sees it breaking even by early 2004. CyberSource and First Data declined comment on the buyout chatter.
Note: Unless otherwise noted, neither the sources cited in Inside Wall Street nor their firms hold positions in the stocks under discussion. Similarly, they have no investment banking or other financial relationships with them.
By Gene G. Marcial
Before it's here, it's on the Bloomberg Terminal.
LEARN MORE