In 1999, Richard Chang could have easily retired. He had just sold his fledgling Taiwan chip company to industry giant Taiwan Semiconductor Manufacturing Co. (TSM ) for $515 million. But Chang, who spent 20 years at Texas Instruments before starting his own business, wasn't ready to slow down. He saw a wealth of opportunity in the growing integration of the economies of Greater China. Now, tapping Taiwan expertise and drawing from the pool of skilled workers on the mainland, Chang wants to help China build a world-class chip industry. "We like to have [Taiwanese and mainlanders] work together," says Chang, 54. "We can complement each other."
Chang is betting that his team will learn quickly. His Shanghai-based Semiconductor Manufacturing International Corp. (SMIC) opened its first chipmaking plant last year, and it is launching a second in December--with plans to build a third, in Beijing, in a few years. All told, Chang has raised more than $1.5 billion from a roster of investors that includes Goldman Sachs (GS ), H&Q Asia Pacific, and Toshiba (TOSBF ). Although the company is still a fraction of Taiwan Semiconductor's size, SMIC is the most advanced chipmaker in China today and has won big customers such as Fujitsu, and partnerships with Toshiba and Chartered Semiconductor (CHRTR ).
SMIC's launch has spooked many Taiwanese, who fear they are losing their edge in a vital industry. Yet Chang, who was born in Nanjing but moved to Taiwan with his parents as an infant during the Chinese civil war that ended in 1949, doesn't think the mainland's nascent chip industry is a threat: He sees the two sides giving each other the boost they need to build a stronger whole. Today, almost 20% of SMIC's 3,100 employees--including many top engineers--are from the island. As SMIC and other mainland foundries grow, Chang says Taiwanese chip-design houses are likely to follow.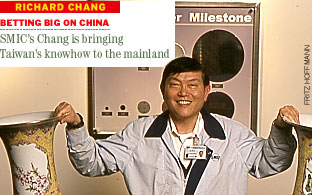 There's more to Chang's motivation than business. "The Lord wants us to come to China and share God's love with the Chinese people," says Chang, a devout Christian. That sort of talk initially made the Communist cadres "feel a little awkward," he admits. As the two sides have gotten to know each other, Chang says, Shanghai officials have become more comfortable with both his business and religious goals. His local partner, state-controlled conglomerate Shanghai Industrial, has helped him make crucial connections and win tax breaks. And Shanghai officials even found space near SMIC's factories for Sunday services that attract some 150 worshippers, both mainlanders and Taiwanese. That's a sure sign that when it comes to Taiwanese businessmen on the mainland, the comfort level of Chinese officials is rising every year.
By Bruce Einhorn in Shanghai
Before it's here, it's on the Bloomberg Terminal.
LEARN MORE