Providing the Killer Perk
Companies say on-site day care pays off in higher productivity and reduced turnover
When Roger Brown and Linda Mason met at the Yale University School of Management in 1979, they seemed destined for careers in Corporate America. Like other newly minted MBAs aiming for the fast track, they accepted consulting jobs. But before plunging into the corporate grind, the adventurous couple headed to Cambodia in 1980, intending to spend the summer working in refugee camps. "Ten days after we arrived, the Vietnamese invaded, turning our camps into a war zone," says Mason, who still recalls the crowds of malnourished children. They stayed for two years.
They did wind up taking those consulting jobs, but soon they were drawn to the Sudan and spent two more years doing relief work there. The couple, who later got married, decided to make a career of working with children. "We said, `Let's forget about building our résumé and decide what we really want to do,"' says Mason. At the suggestion of a colleague, they tapped into the nascent business of providing child care at work sites, launching what's now known as Bright Horizons Family Solutions Inc. (BFAM ) in 1986.
The timing couldn't have been better. Large employers were just beginning to realize that providing good-quality child care at the work site was a killer benefit. It improves morale and productivity while reducing turnover. Thanks to its early entry, Bright Horizons soon became the provider of choice for major employers. Following a 1998 merger, it now runs more than 400 child-care centers for about 300 employers--making it more than four times larger than its nearest competitor. In the past three years, sales have zoomed an average annual 18%, to $358.6 million, while profits rose by an average of 164% a year, to $12.5 million. And even though the recession has forced companies to cut many other expenses, growth is holding up nicely--partly because on-site care is so valued by employees. It was good enough to vault Bright Horizons to No. 35 on this year's Hot Growth list.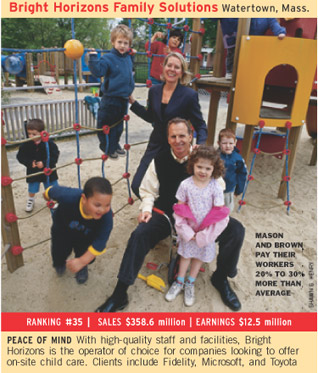 Quality care is the secret to its success. The day-care field is notorious for its low margins. In response, many operators have tried to boost profits by holding the line on wages--a surefire recipe for reducing the quality of day-care workers. But as the parents of three young children--all of whom attended Bright Horizons centers--Roger and Linda were determined to turn this formula on its head. For starters, they get the employers they contract with to pay for the child-care facility. "That gives us about a 20% cost advantage," says Roger. Bright Horizons then uses the savings to pay its staff 20% to 30% more than the market norm, or about $10 to $11 an hour, plus benefits such as health insurance and 401(k)s. That's unusual among child-care workers. All this has made Bright Horizons the employer of choice.
Some 98% of Bright Horizons' parents say they're satisfied with the care their kids are receiving. Employers are equally enthusiastic. "They have bent over backward for us," says Peggy Malumphy, benefits manager for the Dana-Farber Cancer Institute in Boston, which helps support a Bright Horizons' center just a seven-minute walk from its offices. "We are getting a terrific return on our investment." Other companies, apparently, agree. Bright Horizons has compiled a blue-chip roster of clients, from Microsoft (MSFT ) and Cisco Systems (CSCO ) to Fidelity Investments and Toyota Motor (TM ).
Roger and Linda, who now serve as executive chairman and chairman, have brought in others to run day-to-day affairs, but they believe there's still plenty of room to grow. Only about 10% of big companies provide on-site child care. And the company has just begun to venture into Western Europe. That gives Bright Horizons a bright future.
By William C. Symonds in Boston
Before it's here, it's on the Bloomberg Terminal.
LEARN MORE