A CEO and His Son
The remarkable saga of Howard Solomon, his son Andrew, and his company, Forest Labs...a journey of depression and hope
When Andrew Solomon, then 31, fell into a deep depression in 1994, his father's life changed immediately and immeasurably. Howard Solomon, the head of a modest drug company in New York City called Forest Laboratories Inc. (FRX ), brought Andrew to live with him the day his son started taking medication. At first, says Howard, "I didn't understand what Andrew was suffering, that he was really ill. I told him, `Cheer up, hang in there, it will pass.' Andrew made me understand. We were fortunate that he could articulate his terror." Howard, 67 at the time, became Andrew's nurse, advocate, companion. He woke Andrew every morning, assuring his son the hopelessness would fade; he ate dinner with Andrew every night, cutting up his son's food when Andrew couldn't.
In this way, the Solomons could be any parent and child brought together by a serious illness. What sets them apart is how the experience transformed both them and the company that Howard Solomon has run for the past two and a half decades. Solomon is remarkably reserved, a lawyer by training, a man used to going about his business unnoticed. But now his professional and personal lives, once as separate as any chief executive's could be, are intertwined. All too familiar with the harrowing nature of depression and impressed by the efficacy of some medications for it, Howard sought to license a popular European antidepressant that was unavailable in the U.S. It was a decision that would change the fortunes of Forest. Andrew, who emerged from the worst of his melancholy after several months, went on to write an agonizingly intimate book about the disease. The Noonday Demon: An Atlas of Depression was published in June, 2001, and won the National Book Award for nonfiction. He concludes with this thought: "Curiously enough, I love my depression. I do not love experiencing my depressionI love who I am in the wake of it."
Today Forest Labs is a dramatically different company from what it was eight years ago. Its antidepressant, Celexa, is the fastest-growing of its class of drugs, which includes Prozac, Paxil, and Zoloft; its share of new prescriptions is 17.5%. Since its U.S. launch in September, 1998, Celexa has come to account for almost 70% of Forest's overall sales--about $1.6 billion in the fiscal year that ended on Mar. 31. That's more than five times the level before Celexa was introduced. Profits have grown from about $37 million in 1998 to $338 million last year. Forest's share price has quadrupled in that time, from $20 to nearly $80. This year, the company ranks 18th on the BusinessWeek 50 list of top-performing businesses in the Standard & Poor's 500. And Solomon turned out to be the third-highest-paid U.S. executive in 2001 in BusinessWeek's annual survey, largely because he cashed in stock options worth some $147 million.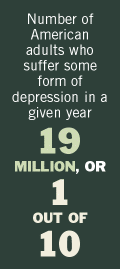 Solomon has put Forest's newfound wealth to good use: The company has licensed several other drugs from European pharmaceutical companies. Four should receive Food & Drug Administration approval and be launched within a year, one is under review at the FDA, and one may soon be ready for the agency's consideration. "Forest is doing exactly what it should be doing. It has a legitimate shot at becoming a much bigger company," says Marc Goodman, an analyst at Morgan Stanley Dean Witter & Co.
Of course, four years ago few outside the company expected Celexa to make much of an impact: By the time the drug was introduced, Prozac was a cultural icon and its rivals were almost as well established. "Celexa changed attitudes throughout the industry," says Robert C. Hazlett, an analyst at Robertson Stephens. "Forest took a modestly better product to market after others, priced it aggressively, and had spectacular and continuing success."
But Solomon is now vulnerable to criticism that Forest's marketing is exceedingly enterprising, its profits unconscionably high. He is still getting used to this; one senses he takes it personally. In his letter to shareholders last year, Solomon wrote: "The pharmaceutical industry contributes more to human well-being--to health and longevity, to the relief of pain and misery and ultimately to human happiness--than any other industryIt is absurd to suggest that there is some villainy in pharmaceutical companies developing and marketing new products."
At the same time, Solomon's personal life has been laid bare. In The Noonday Demon, Andrew reveals a good many of his family's quiet struggles. He writes of his mother's decision to end her life in 1991 when her cancer was deemed incurable. Andrew, his father, and his younger brother, David, shared a snack of English muffins and tea with Carolyn Solomon before she took 40 Seconal pills. And Andrew writes of his attempts to contract HIV and so have an excuse for suicide. (He shows no signs of being infected with the virus.) Howard, a man easily described as patrician, unfailingly well turned out, invariably soft-spoken, says: "We used to be a private family." And although he does not readily speak of intimate matters, he will say that after his wife died he was incapacitated by grief, "depressive" in his words. "It never occurred to me then to take drugs," he says. "Now I would."
Indeed, the National Mental Health Assn. estimates that 1 in every 10 adults suffers from some form of depression in a given year. "It's the family secret that everybody shares," says Andrew. Nonetheless, the stigma persists. An NMHA survey conducted in 2001 found that only 1 out of 5 individuals with depression or an anxiety disorder seeks treatment.
That has profound social and economic consequences. The cost of depression and anxiety in the mid-1990s was nearly $106 billion, according to a study published three years ago by Dorothy P. Rice of the University of California at San Francisco. Direct treatment accounted for some $41 billion of that amount. Lost productivity accounted for more than $63 billion; the rest was the cost of crime and welfare. "A first step would be to say that depression is a major problem in the workplace," says Dr. Benjamin Druss, an assistant professor of psychiatry and public health at the Yale School of Medicine who is conducting similar research.
Depression is the flaw in love. To be creatures who love, we must be creatures who can despair at what we lose, and depression is the mechanism of that despairLove, though it is no prophylactic against depression, is what cushions the mind and protects it from itself. Medications and psychotherapy can renew that protection, making it easier to love and be loved, and that is why they work. --The Noonday Demon
Solomon ended up running Forest almost by happenstance. He was the company's outside counsel in the 1970s when the chairman, a close friend, was accused of inflating profits. The board of directors asked Solomon to investigate; he concluded that the chairman, Hans Lowey, was in the wrong. Lowey resigned, and Solomon took over as chief executive in 1977. (He became chairman four years ago.)
Back then, Forest, which had gone public in 1967, was worth about $3 million. Solomon first got the company out of vitamins and candy and into generic drugs: For several years, it manufactured one product, for angina, and sold it overseas. Then Solomon decided Forest should sell branded drugs under its own name instead. Over the next decade and a half, he licensed several minor drugs that kept the company growing about 20% a year. But Forest remained relatively obscure. Few outside the industry knew of it; most Wall Street analysts ignored it. Then Solomon found Celexa.
After learning about the drug (known in Europe as Cipramil) while researching treatments for Andrew, Solomon was eager to speak with the head of H. Lundbeck, the Danish company that had developed it. At that point, though, CEO Erik Sprunk-Jansen had all but given up trying to sell Cipramil in the U.S. He had signed licensing agreements with no fewer than three big U.S. pharmaceutical companies, only to watch each collapse. Sprunk-Jansen "was very cool to the idea of dealing with another company," says Solomon.
So one day in mid-1995, Solomon called from New York, led Sprunk-Jansen to believe he was in Copenhagen, and casually suggested he stop by sometime. Sprunk-Jansen invited him to lunch the next day. Solomon flew over on the Concorde. During the meeting, Solomon mentioned that he was a member of the board of directors of the New York City Ballet: Sprunk-Jansen has a great interest in ballet, and the NYCB's ballet-master-in-chief just happens to be another Dane, Peter Martins. Solomon arranged for Sprunk-Jansen and his wife to attend a performance in New York and meet Martins afterward. During one dinner on their trip, Sprunk-Jansen's wife, Randi Kindem, who had run Lundbeck's subsidiary in Norway, calculated on a napkin how much Cipramil might earn in the U.S. if it proved as popular as it was in Sweden, where it had a 50% market share. "When Howard saw the numbers, he almost fainted," says Sprunk-Jansen. Solomon was someone he could work with. In early 1996, they signed a deal.
FDA approval came in July, 1998. Then Forest had to persuade doctors to prescribe Celexa. At the time, the company's smallish sales team had a reputation for being reasonably skillful, but they had nothing more rewarding to sell than an inhaler for asthma. Now they were entering, late, the highly competitive market for antidepressants. So Solomon worked out a co-promotion arrangement with Warner-Lambert Co. That lasted all of a year before Warner-Lambert agreed to merge with Pfizer Inc., which sells its own antidepressant, Zoloft. Forest decided to expand on its own, says Elaine Hochberg, senior vice-president for marketing. From November, 1999, to March, 2000, the company added 600 salespeople to its 900-strong force.

Forest's representatives proved to be extremely effective. To start with, they were single-minded: Celexa was the only product most of them sold. And the reps offered Celexa for 20% less than its competitors. There were more prescriptions written for Celexa, 3.3 million, during that first year than for any other antidepressant in its initial 12 months on the market. Celexa's appeal is not that it is vastly more effective but that it is "well tolerated," says Dr. Bill Carter, a staff psychiatrist at McLean Hospital in Belmont, Mass. In other words, its side effects are minimal. "And that's what the marketing war is all about: tolerability."
When Howard introduced Celexa at a company gathering in San Diego, he recited a passage that Andrew had written describing his illness as a vine choking an oak tree. Howard says he wanted everybody to "understand what depression looks like and sounds like." Andrew, who attended the meeting without knowing his father would read from his work, says: "Part of the reason Celexa was launched so successfully was that he communicated an enormous passion about the product." Ironically, Andrew has never tried Celexa. He found the right combination of drugs well before Celexa was available in the U.S., and he isn't inclined to tinker with the mix.
Drug therapy hacks through the vines. You can feel it happening, how the medication seems to be poisoning the parasite so that bit by bit it withers awayEvery morning and every night, I look at the pills in my hand. Sometimes they seem like writing in my hand, hieroglyphics saying that the future may be all right and that I owe it to myself to live on and see.
Certainly there are some executives who, at that point, would have revealed that the author was their son. Howard simply went on to talk about Celexa's success in Europe. "I didn't want to be a bleeding heart," he says. Indeed, only a few people at Forest knew about Andrew's illness. And it was only after the presentation that Howard spoke of his son with Sprunk-Jansen, who had come for the launch.
Andrew had begun to see a psychotherapist the summer after his mother died to cope with his loss. Over the next three years, grief and anxiety turned to numbness, then to dread. Andrew, voicing a common concern, asked if he was going to end up on antidepressants; his therapist said that avoiding medication was courageous. But just before Andrew's thirty-first birthday, he "went to pieces," as he says. It was then that he met with a psychopharmacologist who prescribed Xanax for anxiety and Zoloft for depression (Andrew soon switched to Paxil). It took weeks for the terror to lift, and many more months before Andrew felt himself again. Now, Howard believes Andrew should have taken antidepressants much sooner. "Even in an educated family like ours there was a lot of fumbling around," he says.
Howard remains distinctly uncomfortable discussing his care of Andrew in anything other than the most general of terms. What he will say is this: "The important thing for the caregiver is to keep communicating that the person will get better. It's hard for patients to believe they can be cured. Part of the disease is fear. Virginia Woolf would not have committed suicide if antidepressants had been available."
Even so, worries of suicide hovered over the Solomon family. Andrew describes his father's approach this way: "He constantly played a double card. `I love you very much, and you're surrounded by people who love you, and if you feel better you'll find that you'll have a wonderful life.' Then he played the guilt card: `If you did anything, it would ruin my life."'
By Andrew's account, his father pretty much canceled all his plans for several months so that Andrew wouldn't be alone. When Andrew was up to a night out, they went to the opera. During intermission, Andrew asked his father to accompany him to California, where he was scheduled to talk about his first novel, A Stone Boat, which had been published in October, 1994. Andrew was worried he might not make it through the tour on his own, but he didn't want to cancel it. Howard agreed to join him. "It was embarrassing to have sunk into such infantile dependence," says Andrew. "But I just remember having the feeling that Dad will take care of everything." Andrew dedicated The Noonday Demon to his father, "who gave me life not once, but twice."
Andrew recovered by late 1995, and wrote that for Howard it was "a triumph of his love and of intelligence and will: He had tried to save one member of the family and failed, but he was able to save another."
Medication can alleviate the symptoms of depression, but it doesn't extinguish the disease. Andrew has since suffered two less severe breakdowns, the last in 1999. Today he is comfortably settled in a Manhattan townhouse, serves on the advisory board of the National Mental Health Awareness Campaign, and is writing a book on parent-child relations. Andrew continues to see a therapist and takes five different drugs. When Andrew talks about those times, he says: "Before I got depressed, my father and I had an affectionate but somewhat contentious relationship. Now it's almost embarrassing how well we get along." They talk on the phone several times a day. Andrew's brother is also close by. David returned from Los Angeles, where he was an independent film producer, to join Forest as its director of licensing in March, 2001.
Most people cannot emerge from really serious depression just by fighting; a really serious depression has to be treated, or it has to pass. But while you are being treated or waiting for it to pass, you have to keep up the fighting.
Forest was once the kind of company that had to go knocking on doors for new products. But its dogged promotion of Celexa has not gone unnoticed by other European companies; these days Solomon often gets first dibs on those compounds he thinks have a good chance of being approved in the U.S. Forest's strategy has been to focus on treatments for diseases that are initially diagnosed by general practitioners. For instance, Charles Triano, Forest's vice-president for investor relations, says the company expects to launch lercanidipine for hypertension (developed by Italy's Recordati) early next year. And in October, Forest won the U.S. marketing rights to acamprosate, a drug for the treatment of alcohol addiction that was discovered by Lipha, a subsidiary of the German company Merck. Lipha filed a new drug application in late February, and the FDA has promised an expedited review. "They did a spectacular job of building a portfolio in a very short time," says Corey Davis, a specialty pharmaceuticals analyst at J.P. Morgan H&Q. "They could not spend their money fast enough."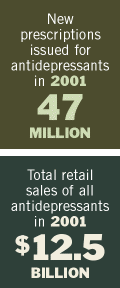 But like every other pharmaceutical executive, Solomon has to contend with the fact that his main product will go generic one day--in this case, in early 2005. Well before then, and perhaps as soon as June, Forest hopes to get the next generation of Celexa, called Lexapro, on the market. The company is now waiting to receive final FDA approval. Some analysts believe Lexapro, which Forest says is more pure and powerful than the original, could be a $2 billion-a-year drug in the next five years.
Two potential problems could undercut Forest's promise, though executives there prefer to talk about only one. What they will acknowledge is that to keep growing, Forest will have to license drugs in earlier stages of development. The advantage is that the company can initially make a smaller investment and have more say in the process. But in those cases, the already intricate approval procedure becomes even more uncertain. "There is clearly a risk-reward scale," says Triano. "So far we are skewed to late-stage development. But we're looking to slide the scale." Some of the responsibility for that will fall to Solomon's likely successor, Kenneth E. Goodman, 54, who now serves as president and chief operating officer.
What executives at Forest won't readily discuss is the matter of cannibalization--the reality that new drugs, such as Lexapro, usually eat into the sales of their precursors. One way Forest hopes to differentiate Lexapro from Celexa is by seeking the FDA's consent to sell Lexapro as a treatment for anxiety and panic disorders as well as depression.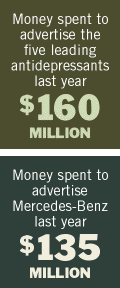 Trying to extend a drug's use is common enough: Paxil is already prescribed for social anxiety, or shyness. The tactic is not without controversy, though. In this instance, critics suggest that drug companies are aiming far beyond the small group of people whose shyness is incapacitating to those who may feel somewhat awkward in public. For such temporary unease, drugs may not be appropriate. "People deserve to feel better. But they are resorting to drugs to deal with the problems of living," says Dr. Sidney Wolfe, head of Public Citizen Health Research Group. Indeed, some contend that medication for depression is not as powerful as people believe. Two recent studies conclude that in the short term, placebos can work as well as antidepressants.
Solomon's appreciation of how debilitating depression can be and Forest's growing resources led him to make two important changes in the workplace. The company introduced a comprehensive Employee Assistance Program. And it began providing the same amount of health insurance for mental illness as for other maladies. This may seem like it should be standard practice, but it is a contentious matter. Companies trying to contain health-care costs argue that mental illness can't be controlled as effectively as, say, heart disease and therefore shouldn't be covered the same way. In late April, President Bush called on Congress to pass a bill that would prevent companies from setting limits on mental health insurance.
Solomon considered offering free antidepressants to those who needed them after September 11 but decided against it. While Andrew is enthusiastic about the drugs' efficacy, he wrote candidly of their peril: "Taking the pills is costly--not only financially but also psychicallyIt is toxic to know that without these perpetual interventions you are not yourself as you have understood yourself."
What Howard tells his son, and all those who suffer depression, is that there is nothing to be ashamed of. Indeed, both speak of what they have gained. Andrew's despair could have brought his family even greater misery had he not emerged from it in as fine form as he did. Instead, the experience transformed him, his father, and Forest. Theirs is a story of hope, perhaps not rare, but certainly remarkable.
By Susan Berfield
Before it's here, it's on the Bloomberg Terminal.
LEARN MORE