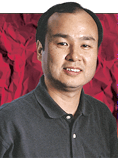 Softbank Corp.

POSITION: President and CEO
CONTRIBUTION: Has made Softbank the most aggressive investor in Net startups, with stakes in 600 companies. While other backers retreat, Son plans to invest $3 billion in some 100 companies.
CHALLENGE: Weather the storm. He must choose which of his portfolio companies to keep stocked with cash, while looking for new winners.
It's good to be king. And it's very good to be a king who has cash to play with, despite the global market disenchantment with the Internet. At least, that's what you will hear from Softbank Corp. founder Masayoshi Son, who is the undisputed ruler of the Net in Japan. The tech meltdown is sweeping away the amateurs, and affords those with staying power a huge opportunity. "I view this as a positive thing," says Son. "The survivors will now have room to grow."
Son plans to go full blast, buying into all manner of broadband, wireless, and Internet technologies around the world. On top of $2.5 billion in venture-capital funds he raised during the fat times, a deal with Cisco Systems Inc. earlier this year put another $1.05 billion in his pocket.
Softbank aims to add 100 more outfits to its global confederation of 600 upstarts. That makes him one of the last big financial backers of the Internet. While other venture capitalists are retreating, he remains committed to a vision where the Net transforms nearly all businesses. If he's right, he could end up being one of the biggest beneficiaries.
Son has taken his share of blows during the downturn. Some $130 billion worth of Softbank's market capitalization has been vaporized, and the stock currently hovers at $38, vs. a split-adjusted high of $497 reached in February, 2000. Still, his empire isn't in any danger of facing a cash crunch. "Cash is king, and we have $3 billion or so" to play with, he says.
In tough times, smart companies find ways to get stronger still. Son looked like a genius when the Net was booming. Now we'll find out if it was brains--or just the bull market.
Before it's here, it's on the Bloomberg Terminal.
LEARN MORE