U.S.: The Slowdown May Be Nasty But Short
Inventory control, a healthy job market, and the Fed will contain the pain
By
Without a doubt, the economic landscape looks foreboding right now. Consumers have lost confidence. Businesses are cutting back sharply, and investors are worried about future growth and profits. All in all, it's a painful picture. But there are reasons to believe that the worst of the slowdown will be limited to the first quarter, and that the second half will look and feel better.
Three factors support the notion that the slowdown will be sharp but short: aggressive government action, businesses' ability to adjust inventories quickly, and still-healthy labor markets. The outlook also got a boost from the strong January data on car sales, brisk retail activity, and a better-than-expected 268,000 new jobs. Although weather skewed the data, they indicate that the economy is not in such dire straits as the dismal news of November and December suggested.
What makes these factors important is that they provide key support for both overall demand and the stock market. The market has never played such a large role in spending by consumers and businesses, which makes it a major vulnerability for the outlook.
FIRST AND FOREMOST, the response from the Federal Reserve has been unusually fast. The bank's two big moves in January are already a psychological plus for investors, and they should shore up future readings on confidence. The real impact of those and perhaps additional moves this quarter will help the economy before the end of this year. And with tax-cut fever sweeping Washington, fiscal stimulus may be in place by the second half as well. Amid low inflation and stellar productivity gains, the Fed has room to err on the side of accommodation, compared with past down cycles.
Second, businesses appear to be using technology to quickly realign their production and inventory levels with demand's slower pace. The evidence is the sharp cuts in factory output and orders (chart). That, combined with early evidence that consumer demand in the first quarter, while slower, is not collapsing, will clear out excess stockpiles fast. The adjustment may well be concentrated in the first quarter, allowing growth to resume at a reasonably good pace in coming quarters.
The downside is the ongoing recession in manufacturing that is causing huge job losses. In January, 65,000 workers were let go, bringing the number of layoffs over the past 12 months to 256,000. In addition, the purchasing managers' index of industrial activity continued to dive in January, as orders fell and more companies said that inventory levels were too high.
A sharp slowdown in inventory building threatens to hammer first-quarter growth in real gross domestic product, perhaps even sending it into negative territory. But the salient point to remember is this: As long as demand is growing, the more the weakness in first-quarter GDP reflects the swing in inventories, the more positive is the prognosis for growth in the future.
How the inventory cycle plays out will depend on demand. If consumers become so pessimistic about the future that they stop spending, the economy will be at serious risk. The inventory adjustment would turn into a drawn-out affair, and capital spending, which is also sensitive to demand, would suffer further losses, especially since banks are increasingly picky about whom they lend to (chart).
Given the importance of demand, the third argument for a short-lived slowdown hinges on the labor market. Bear in mind that this is mainly a consumer-led slowdown, and if job markets unravel, so will the economy.
THAT'S WHY AN ACCURATE READING of the January employment report is important. Unfortunately, the unexpectedly strong 268,000 jump in payrolls says more about the weather than the economy. The gain followed worrisomely weak increases of only 53,000 in November and just 19,000 in December, two months when the weather was unseasonably bad, as the Labor Dept. noted. Averaging those three months to smooth out weather distortions gives a better indication of the growth trend of 113,000 per month. That pace is well slower than last year, but it's far from weak.
In particular, weather patterns severely skewed construction payrolls. They surged by 145,000 in January, the largest gain in 23 years, but the jump followed declines in November and December when temperatures fell to record lows. The average gain during the past three months is a healthy 39,000 jobs per month.
Outside of manufacturing, the job picture looks encouraging. Over the past three months, private-sector service jobs have grown by 119,000 per month. That's down from the 143,000 pace during all of 2000, but it is still not bad. The workweek in January bounced back from a weather-depressed drop in December, and weekly earnings posted a big gain, which should give a boost to January personal income.
Also in January, car sales rebounded strongly (chart), and weekly surveys show good retail activity. Mortgage applications increased further last month even after December new-home sales jumped to the second-highest level on record. Consumers may say they are less optimistic, but if they are still willing to plunk down cash for cars and homes, things can't be too bad.
HOWEVER, OVERALL JOB GROWTH, while still decent, wasn't fast enough to keep the jobless rate from edging up from 4% to 4.2% in January. And the rate will rise further in 2001, as the soft landing hits the labor markets. Companies must bow to the tyranny of Wall Street, which requires ever-increasing profits in order to keep stock prices high. That was relatively easy in a boom economy when profits were pumped up by rising revenues and fat margins.
Now, companies must trim costs to boost profits, which usually means cutting labor. Although productivity grew an impressive 2.4% in the fourth quarter, unit labor costs jumped 4.1%, much faster than prices. Higher costs for both labor and energy resulted in a sharp squeeze on profit margins last quarter, even though revenues were generally strong.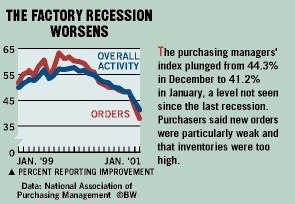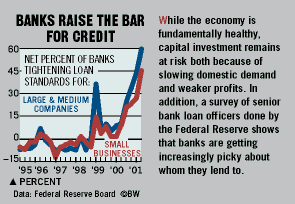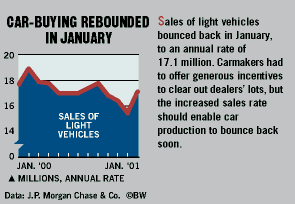 In addition, if the long-term trend in the growth of productivity is 2.5% to 3%, then companies can lift their output this year by that pace, simply from better efficiency, not by adding workers. If demand grows by only 2%, for example, then companies will find themselves with more workers than they need. The result: more layoffs. That's why even if the U.S. skirts a recession, the unemployment rate is sure to rise this year, probably into the 4.5%-to-5% range.
One concern is that a rising jobless rate could undermine consumer confidence in the first half. But given the forceful Fed response and the quickness with which businesses are trimming their inventories, job growth is likely to bounce back in the second half. That should restore consumer confidence later on and enable this expansion to keep going.
Before it's here, it's on the Bloomberg Terminal.
LEARN MORE