France: Looking Fitter Than Its Neighbors
By
Europe is starting to feel the effects of the U.S. slowdown, and France is no exception. Export-related industrial activity has shown signs of easing in recent weeks, reflecting cooler global demand and the stronger euro. However, France is well-positioned to weather the storm.
France sends about half of its exports to its euro-zone neighbors, and it is less dependent on exports outside the euro zone than Germany. That, plus the bright outlook for French domestic demand, is why France is expected to outperform the euro zone generally this year. Economists expect growth in 2001 to stay close to the 3% pace of 2000.
A key theme in the outlook is buoyant consumer spending, which is expected to grow faster this year than last. In January, auto sales were strong, and post-Christmas retail activity has been brisk. And why shouldn't it be? Confidence among French consumers hit a record high in January, supported by strong income prospects.
The boost in buying power is coming from good job growth, a pickup in wage gains, low inflation, and an ebb in oil prices. Also, a sizable three-year tax cut, timed as it is prior to the upcoming municipal elections in March and the 2002 general election, will prove especially beneficial to households this year.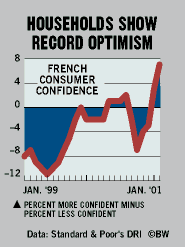 Although the global slowdown will weigh on the pace of job creation, labor markets should remain strong. Economists say that economic growth greater than 2.5% is sufficient to keep the unemployment rate headed down. Joblessness extended its three-year decline in December, falling to 9.2%, and analysts expect it to dip below 9% by midyear.
The outlook for business investment, helped by tech outlays, is also good. Although January surveys of industrial activity and confidence suggest some concern about future demand, factory capacity use is at a record high, and companies say orders are strong. A Bank of France survey says that outlays for expansion and modernization remain high, adding further support to growth in 2001.
Before it's here, it's on the Bloomberg Terminal.
LEARN MORE