U.S.: Bush May Not Be Stepping Into Quicksand
2001 is off to a shaky start, but the economy needn't slip into recession
by
How weak is the economy that President Bush inherited? Recent signs of slower job growth, sinking consumer sentiment, and a softer housing market have turned up the volume on recession talk. But overall, the data still signal the economy is only slowing, not contracting. And absent a shock, such as a sharp drop in stock prices, the expansion should endure.
Clearly, though, the economy ended 2000 on a soft note, and that tone will continue into at least the first half of 2001. The Commerce Dept.'s initial look at fourth-quarter economic growth on Jan. 31 will confirm that. That's also the day the Federal Reserve sits down to decide on interest rates. Economists surveyed by Standard & Poor's MMS expect real gross domestic product to have grown at an annual rate of 2% in the quarter, after a mere 2.2% advance in the third quarter. The expectation means growth fell from a 5.2% gallop in the first half to just above 2% in the second, the slowest two-quarter pace in five years.
So far, the Fed's hoped-for soft landing is on course. But in light of increasingly worried consumers (chart), policymakers are very unlikely to take chances with the 2001 economy, especially since low inflation gives them the leeway to err on the side of accommodation. That's why the Fed is expected to cut interest rates by at least another quarter-point at its upcoming meeting.
IN DECIDING the economy's future, policymakers will focus on the mix of fourth-quarter GDP growth and what it says about the outlook. The numbers will show that domestic demand remained soft. Consumer spending, however, did not decline outright, and households are the key to avoiding an economywide recession in 2001. Businesses lifted their investments in new buildings last quarter, but equipment outlays were softer.
The GDP report is also likely to show that, because overall demand slowed quickly, inventories built up faster than businesses wanted last quarter. And until stock levels are drawn down to levels more in line with softer sales growth, the recession in manufacturing will continue. Moreover, factories cannot count on much growth from exports. Foreign trade likely subtracted from GDP growth again last quarter, although not nearly as much as it did in previous quarters.
Slower domestic spending has been expected ever since the Fed began hiking rates in June, 1999. Higher rates are cooling spending in two ways. First, larger financing costs have dampened demand for big-ticket items. Second, the rate hikes knocked the wind out of stock prices. Amid sharply curtailed wealth gains, some consumers and businesses are canceling spending plans. Policymakers wanted to bring spending gains more in line with income growth after the wealth effect added as much as two extra percentage points to consumer spending in 1999 and early 2000.
What might scare the Fed is how quickly those portfolio losses have darkened consumers' mood. Sentiment is increasingly important in an economy where demand now depends much more on the stock market. Falling expectations can bring down stock prices, which only gives households more to worry about. The University of Michigan's consumer sentiment index plunged 9.2 points in December and then 4.8 points in its preliminary January reading. The drop was the largest two-month fall since the 1990-91 recession.
Continued stock market weakness, coupled with layoff announcements at major companies, suggests the Conference Board's January index of consumer confidence will also show a decline. It will be released on Jan. 30, just as policymakers gather around their big oval table to start their two-day meeting.
The financial markets have already priced in the expected rate cut, and that anticipation may help support consumer spending. In particular, lower mortgage rates have produced a flood of refinancings that will put more money into consumers' pockets in 2001 (chart).
LOWER MORTGAGE RATES will also keep the housing sector from collapsing, but clearly the go-go days of the late 1990s are over for builders. Starts in December edged up 0.3%, to an annual rate of 1.57 million, and for the quarter, they averaged 1.56 million, up from 1.53 million in the third.
That means residential construction added to fourth-quarter GDP growth. But starts at yearend were far below the 1.67 million averaged per month in the first half. Looking ahead, construction should slip some more, even with the recent dip in interest rates. That's because consumers who have lost money in the stock market or are worried about job prospects may feel less confident about taking on a long-term mortgage.
The cooldown is already evident in the National Association of Home Builders' housing market index. It fell in January for the second month in a row, to 54%, the lowest reading in four years (chart). The NAHB's members have seen a steady decline in sales, buyer traffic, and sales expectations since the start of 2000.
THE EASING IN FED POLICY should help to accelerate the recent weakening in the dollar. Since October, the U.S. dollar has fallen some 12% vs. the euro. The dollar's drop helps the outlook for one sector that was a tremendous drag on the U.S. economy in 2000: foreign trade.
In November, the trade deficit for goods and services narrowed to $33 billion from $33.6 billion in October. Both exports and imports fell. But a decline in petroleum imports--due mostly to a price drop--accounted for more than half the reduction in November imports. The decline in exports was more widespread.
For the fourth quarter, falling net exports likely subtracted from GDP growth, but the drag was far less than the average of almost one percentage point in each of the first three quarters of last year. For 2001, the trade deterioration should lessen because slower domestic demand will curb import growth, while a lower dollar should make U.S. exports more competitive.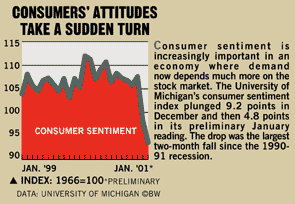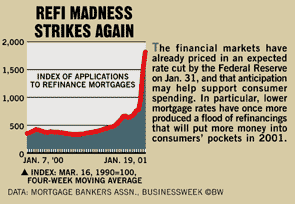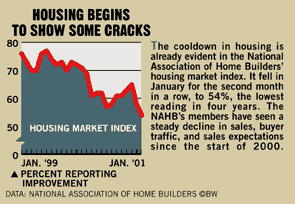 In particular, a weaker dollar should boost demand for high-tech U.S. goods, which has been falling recently. Foreign producers haven't lost the need to invest in computers, peripherals, semiconductors, or telecom equipment, but clearly a strong dollar made such U.S.-made equipment less competitive. Don't expect a quick turnaround in the deficit, though. Because economic growth in the rest of the world will not surpass that in the U.S., the trade gap will continue to widen in 2001, just not as rapidly as it did last year.
Even with a weaker trade position, Bush takes the helm of an economy that, judging from signs so far, is only slowing down, not toppling into recession. The Jan. 31 GDP report should confirm that Bill Clinton was the first President since Lyndon Johnson to avoid a downturn during his watch. And despite the ominous beginning for 2001, that good luck might just hold for the first year of the new Administration as well.
Before it's here, it's on the Bloomberg Terminal.
LEARN MORE