U.S.: All Is Not Gloom On The Consumer Front
The demand for services should keep much of the economy moving
By
With consumer confidence heading south and retailers bemoaning a disappointing holiday season, you might conclude that consumers have decided to shut their wallets and sit the winter out--with potentially dire consequences for the economy. However, if that's the case, why did fourth-quarter consumer outlays for services grow at one of the fastest rates of this expansion?
The answer is that the consumer slowdown has been concentrated in the purchases of goods, especially durable goods, such as cars and computers (chart). The full fourth-quarter data will not be available until the Jan. 31 report on gross domestic product. But based on monthly data, household outlays for goods were about flat from the third quarter, one of the worst showings since 1991. Spending on services, however, seems to have grown at a strong annual rate of about 5%.
Interestingly, this split also shows up in the price data. The December consumer price index rose a tame 0.2% from November, while the core index, which excludes energy and food, increased 0.1%. However, the yearly core rate for goods is stable, at only 0.6%, while that for services has been rising, up to 3.4%.
The divergent trends in demand for goods and services is crucial to the outlook. It shows that while overall consumer spending is slowing from its breakneck pace of 1999 and early 2000, households are not retrenching in a way that could doom the expansion. More importantly, the demand for big-ticket items is sensitive to changes in interest rates. So the Federal Reserve's preemptive cut in rates could make the slowdown in goods spending a short-lived event.
EVEN SO, THE WEAKNESS in goods outlays is bringing pain to the industrial sector, as shown by the three monthly drops in manufacturing output (chart). And don't look for an end to the factory recession anytime soon. Businesses must bring their inventories into alignment with the slower pace of sales. The severity of that inventory correction will go a long way in determining the extent of the slowdown in GDP growth.
Beyond manufacturing, the economy, particularly the service sector, seems to be holding up. Hours worked at service companies, a good proxy for service-sector output, rose faster in the fourth quarter than they did in the third. Furthermore, overall job growth, while slower, shows every sign of staying healthy enough to keep overall consumer spending growing at a moderate pace.
Surprisingly, consumer shopping at yearend was not a disaster. Retail sales managed a 0.1% gain in December, and they were flat when cars are excluded. Those numbers, though weak, were better than the declines projected by many economists.
Receipts at gasoline stations fell 2.3% in the month. That subtracted a tenth of a point from the total and mainly reflected a drop in the price of gas. Of course, cheaper gas will help consumer demand in 2001, after higher fuel prices sharply cut household buying power in 2000. But how much higher heating oil costs drag down consumer spending will depend on how severe the rest of the winter is.
Monthly sales data suggest that real consumer spending grew at an annual rate of about 2.5% in the fourth quarter. That's down from 4.5% in the third quarter, but the pace is close to the yearly growth in real aftertax income, one of the key consumer fundamentals that will determine future spending trends.
SO HOW ARE THOSE FUNDAMENTALS? Certainly, they're not as powerful as a year ago. Slower job growth should support income growth of about 2.5% this year, but that's down from about 3% in the previous two years. And the wealth effect from the stock market is no longer providing rocket fuel to spending. Still, household finances are holding up thanks to stable labor markets and resilient housing demand which is buoying home prices.
Concerns are growing over debt, but so far households in general aren't overextended yet. Borrowing increased through most of 2000, but the rate was below that of the mid-1990s. Debt servicing--the percent of incomes devoted to paying off old IOUs--also rose, but remains below its 1980s high. And banks remain quite willing to lend money to the household sector, even as they raise the bar for business borrowers.
In addition, many homeowners are rushing to refinance their mortgages after the Fed's surprise rate cut helped to bring mortgage rates down to below 7.5%. According to the Mortgage Bankers' Assn., applications to refinance mortgages in the first two weeks of January were triple their fourth-quarter average.
The biggest danger to the outlook remains the performance of the stock market. Remember the wealth effect boosted demand for consumer goods, especially for items such as autos. With wealth diminishing, it's not surprising that goods spending is slowing as well.
THAT WEAKNESS is generating an inventory problem that is falling back on U.S. manufacturers. For example, inventories held by factories, wholesalers, and retailers rose 0.7% and 0.5% in October and November, respectively, but sales by those businesses fell 0.5% and 0.3% in those same months. And much--but not all--of the imbalance is concentrated in the auto sector. As of last spring, the growth rates of inventories and sales at car dealers were in balance, but by the end of the year, stock levels had grown some 15% above the year-earlier mark, while sales were nearly flat.
As a result, factories are cutting production. Manufacturing output fell 1.1% in December, after cutbacks of 0.6% in November and 0.2% in October. However, the December drop appears to have been exaggerated by the severe winter weather, especially in the Midwest.
The need for an inventory adjustment came suddenly for many businesses. The latest survey of business conditions by the National Association for Business Economics notes an especially large drop-off in goods demand in the fourth quarter--in fact, the largest one-quarter falloff in the 18-year history of the survey.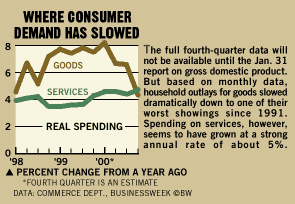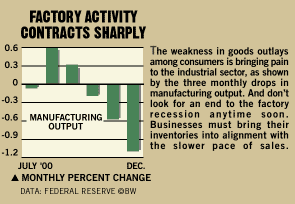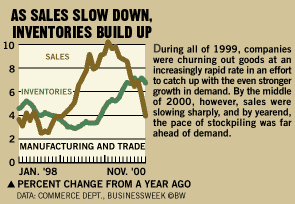 During all of 1999, companies were churning out goods at an increasingly rapid rate in an effort to catch up with the even stronger growth in demand. By the middle of 2000, however, sales were slowing sharply, and by yearend, the pace of stockpiling was far ahead of demand (chart). From March, 2000, until November, 2000, the ratio of inventories to sales rose from 1.31 to 1.36, the steepest rise of this expansion. Inventory rebalancing is unlikely to be completed before spring, which means a long, cold winter for manufacturing output and employment.
However, once the inventory adjustment has run its course, manufacturing's drag on the economy will begin to ease up, and lower interest rates will help to shore up demand. In the meantime, as long as consumer fundamentals remain as firm as they are now, household demand for services will keep a big chunk of the economy moving forward at a moderate pace.
Before it's here, it's on the Bloomberg Terminal.
LEARN MORE