Argentina: A Ray Of Sunshine From The Fed
by
Investors and policymakers in Argentina are hoping that the surprise easing in U.S. monetary policy will boost the extremely weak Argentine economy.
That's because the Argentine peso is hard-pegged to the U.S. dollar. In the past, the greenback's rise pulled the peso up along with it, causing Argentine exports to become too expensive in global markets. Now with the U.S. dollar falling, better export growth, along with lower interest rates, has lifted Argentina's prospects.
That's why the Buenos Aires stock market has been rising since the Federal Reserve unexpectedly cut U.S. interest rates by a half- point on Jan. 3. Investors are hoping that lower interest rates will boost capital investment and shore up the sagging economy.
It certainly needs help. Argentina was in a recession for two years, and its recent signs of recovery are tepid at best. Real gross domestic product in the third quarter was flat compared with a year ago, and the fourth-quarter data look weak. Unemployment was 14.7% in October. Industrial production, which had begun to rise at midyear, turned south in the second half. For the fourth quarter, it was down 3.1% from a year ago. And at the end of 2000, after government car incentives ended, auto sales sank(chart).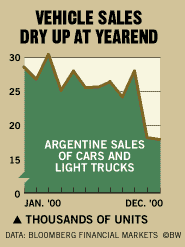 The two bright spots in the economy's performance have been a narrowing of the trade deficit and the absence of inflation, both expected outcomes of a recession. The trade deficit fell to $38 million in November, almost a tenth of what it was in November, 1999. With domestic demand weak, imports are shrinking. In addition, consumer prices in December were down 0.7% from a year ago.
Officials are now more optimistic about the economy and financial markets. Argentina already received extensive help from the International Monetary Fund in 2000, but now the hope is that foreign investors, looking for higher payoffs than those found in the U.S., may park more of their money in the emerging markets, including Argentina.
Before it's here, it's on the Bloomberg Terminal.
LEARN MORE