Italy: A Waterlogged Economy With A Debt Problem
By
Because of the devastating floods in the fourth quarter of 2000, Italy may have experienced the worst growth rate among the euro zone economies for the third year in a row. And 2001 may be a tough year as well.
Prime Minister Giuliano Amato has said that real gross domestic product likely grew between 2.7% and 2.8% in 2000, short of the government's target of 2.8%. Amato partly blamed the October flooding in the northern region for the weakness. The floods caused plant closings and more than 20 deaths. Industrial output in October fell 0.8%, after no growth in September. And October retail sales rose a disappointing 1.1% from year-ago levels. Consumer spending was hampered not only by the floods but also by rising inflation, which has cut into buying power.
Soft demand both at home and abroad is hitting manufacturing. Third-quarter orders rose 8.7% from a year ago, but that's down from a 17.1% gain in the second quarter. Business confidence has been falling since May (chart).
For 2001, Italy's real GDP growth may slow to 2.3%, compared with a forecast of 2.7% for the euro zone. Italy's jobless rate may fall to 9% from October's 10%, but the rate will remain one of the highest in the euro zone.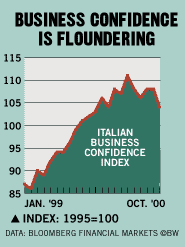 Growth will be lackluster this year, despite coming fiscal stimulus. The Italian Parliament approved a 2001 budget that included a tax cut of 28 trillion lire ($13.3 billion) this year. The tax cut lifted consumer confidence in December, but budget watchers warn that the cuts in both personal and business taxes mean the Amato government is unlikely to hit its goal of reducing the deficit to 0.8% of GDP in 2001, from about 1.3% in 2000.
The government has said it will pay for the plan by cracking down on tax evasion, but the 2001 budget almost guarantees that Italy will still be the most indebted country in the euro zone. The outstanding public debt stands at about 115% of GDP, and a slower economy and a revenue decline mean that the high debt burden will surely increase this year.