Britain: Why The Factory Gears Are Grinding
by
British manufacturers can't seem to get a break. Just as the sterling's recent decline from oppressive levels began to raise hopes for a factory turnaround, worries about a global slowdown in demand are now clouding the outlook. Industrial production fell in October for the second month in a row after growing steadily since March.
Moreover, manufacturers can't count on an easing of monetary policy anytime soon to lift domestic factory orders. While interest rates have peaked, still-strong demand for services and an expected boost from government spending in 2001 will make the Bank of England's Monetary Policy Committee cautious about rate cuts. As expected, following a slight lowering of its growth and inflation projections for the coming year, the MPC on Dec. 7 left its benchmark interest rate at 6% for the tenth month in a row.
Nevertheless, amid signs of slower consumer spending and diminishing wage pressures, the financial markets are already pricing in a rate cut. The markets are impressed by several indications of slower growth and tame inflation, although none seem conclusive. Most recently, outside of energy and food, retail price inflation remains below the MPC's target of 2.5% (chart). In November, core inflation, less mortgage interest, stood at 2.2%, about where it has been since April, 1999.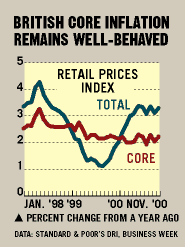 Other good signs: House prices, one of the MPC's big inflation concerns, have slowed sharply, from a year-to-year growth rate of 16% in January to 7% in November. In addition, wage growth has cooled, from nearly 6% earlier this year to about 4%, a pace the MPC is more comfortable with.
Most important, demand appears to be cooling, given that holiday sales are off to an inauspicious start. But consumer spending has sped up in each quarter of 2000. The MPC has said that household demand must slow substantially so that the economy can accommodate the upcoming government stimulus. But once again, slower domestic demand will not help struggling manufacturers.
Before it's here, it's on the Bloomberg Terminal.
LEARN MORE